Since the mid-1960's I've had the good fortunate to sample all of the Catskill trout streams that Mac Francis writes about in his two excellent books,
Catskill Rivers
and
Land of Little Rivers
, plus quite a few more not as well known, and some with no names --- only numbers on regional DEC fishery maps. And, I've had the opportunity to wet a line in many other trout streams of this great state of ours. Over all that time, the three hardest trout streams - IMHO - to seduce its fish out of are, in no particular order: the lower Neversink below NYC's Reservoir (no, not the stocked fish), the Battenkill in the Special Reg section just downstream of the VT border, and Spring Creek up in Caledonia, NY. There's something very special about each of these rivers, but the rest of this thread will focus on Spring Creek.
A few years ago, our oldest daughter with her husband and first born lived in the Southern Tier of NYS just off of Route 17, in Cuba, NY. My wife and I loved visiting and over time I got to fish several rivers up there including the Wiscoy Creek and Genesee River. But the stream that caught my fancy was the Spring Creek, in Caledonia. My first visit was more from a historical aspect wanting to see/experience Seth Green's legendary hatchery, along the banks of this wild trout stream. The stream, however, left a lasting impression in my mind, and I fished this very short section of gin clear, spring creek full of wild trout - some of the prettiest browns that I've ever touched - every chance I had, until our daughter's family relocated to the Albany region.
I don't think I caught a trout that first time, but was lucky enough every time thereafter, mostly fishing to selectively rising trout using #22-24 cdc dry flies except for one time I happen on the stream during a snow squall when the trout got dumb, slamming a little streamer until the foul weather passed.
If you want to experience some history - Seth Green's hatchery, now run by NYS DEC and challenging fishing, I would highly recommend the Spring Creek in Caledonia.
Spring Creek: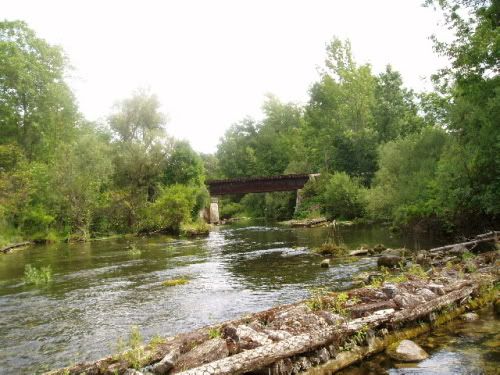 Colorful wild brown: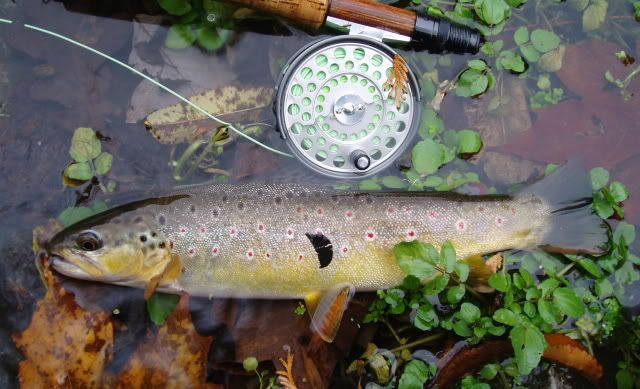 BTW - I never caught a trout over 13", but I am told a few very big trout call this creek home. I guess they tend to move up into it from the Oatka Creek, which it joins downstream of the hatchery.