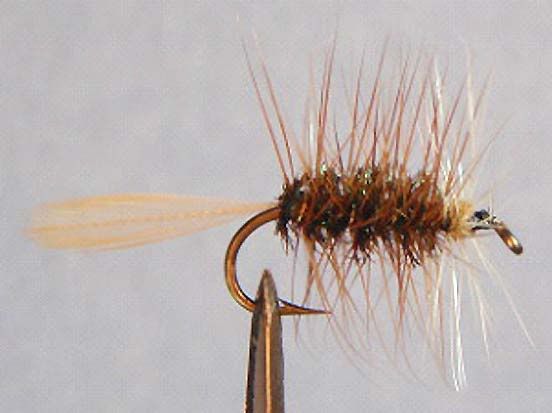 The above photo of a 'Katterman' (tied by Frank Kuttner) is from the Sparse Grey Matter Dry Fly Pattern Database,
posted by catskilljohn.
When I first looked at the photo, I thought the hackle tip tail was tied horizontal like a beaver tail. But, on second thoughts it may actually be vertical like a trout tail, its hard to tell from the photo. Either way, a hackle tip tail on a dry fly is unusual.
I sent catskilljohn a PM asking if he knew the reason why Dette created the tail as such?
John kindly replied, "I dont know the reason for it, but I can tell you the guy who tyed it is probably the fussiest, get-it-right, stickler for detail tyer I know. Frank lives just a 1/4 mile from the Willow, and he tyes this fly for a local club that owns water on the upper Beaverkill. In a little tying session I took place in over at his shop, he told me "the tail is tyed upright", but I didn't ask why
Frank is the last of the Catskill greats, and was very close to Harry Darbee in his last few years. If you ever see or buy a Frank Kuttner fly, be assured it is historically accurate. He has seen it all, and seen it firsthand from the ones who originated it."
I googled around and found that the fly is often fished by drawing it across riffles. Perhaps, the hackle tip tail is there to keep the fly from rolling as it is drawn across the surface. But that's just a thought!
Cheers
Alan