When you streamer fish for salmon, do you use sinking, sink-tip or floating line? I know the full sinking is supposed to be most effective for trolling but would be kinda difficult for cast and retrieve right?
It depends whether if wading and casting---or float tubing and casting.
>If I'm out on a gravel bar---on Cayuga lake, I've used "shooting" heads were introduced to me by a Prof. at Cornell who was a west coast steelheader transplant.
They are self-made---and nothing fancy. Cut a section of level line (sinking) and attach to "running line"--black mono. stuff. He showed me how to handle it. No issues casting. However---if the landlocks are right on the surface, in early spring, I've used a level
floating line
section, shooting head style.
>Canoe trolling: Sink tip line.
>Float Tube: Sink tips, often floating lines, too.
By the way...I just purchased a new float tube--
Fish Cat
Deluxe
-4. My old
Caddis brand
, simple round doughnut tube that served me well---and is over 25 years old, is being mothballed. I used that float tube on every kind of water---bass ponds to brookie ponds, to big lakes like Cayuga.
Time for an upgrade. Will take it into the ponds...To not disappoint our Corlay, I got the
red
one.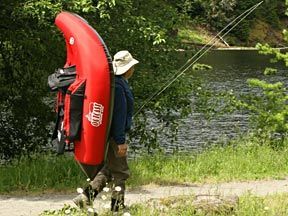 .