What a weekend!
Saturday morning, 30*, clear skies, gusts of wind to 20mph...a textbook April morning in Sullivan County. Determined to christen the new cane, I rose at 6:00, loaded up and headed down to a public spot not far from the house. I was thinking, yea, its cold...but how hard could it be to sting a few before heading over to the museum? I parked, strung up and walked downstream 1/2 mile to work my way back up. With the wind kicking up and the sun still behind the mountain, I started thinking maybe a midge on a dropper under a #14 hares ear could cover a little more water column while I move back up. Drift after drift, touching bottom a couple times, I am noticing the green tint to the water and it occured to me I didn't check the water temp yet. 39*...yikes. Losing faith, I start looking at the bottom in a shallow riffle, and I see loads of cased caddis. Well, at least there are bugs in the water, cause there sure aren't any trout
I lift a rock and a 2" dace moves a few inches, stops and appears to be frozen and I think if a dace cant move more than a few inches, I bet a trout wont either. Its going to be a long time before I bounce this rig directly into a trouts nose, so I reel in and head back to the car. The sun is breaking through the trees, and a ray of sun hits my face...I smile and say to myself this is it, opening day, at least it is to us long distance travelers!
Over to the CFFCM, I was one of the first ones there. Grabbed my tying stuff, walked over to the gift shop and hung out till they opened the doors. In 1/2 hour you couldn't even park in the lot. Anglers started filling up the grassy area, and some headed upstream to the anglers parking area to get a good spot for the First Cast ceremony. Jack, Dan, Rick, Bud, Kurt, Johnny Hardware, Ronbo, Tim, Turk...all SGM members and all in attendance, we laughed and watched the place really get packed. It is such a treat to get together with all the boys streamside and catch up after a long and still lingering winter.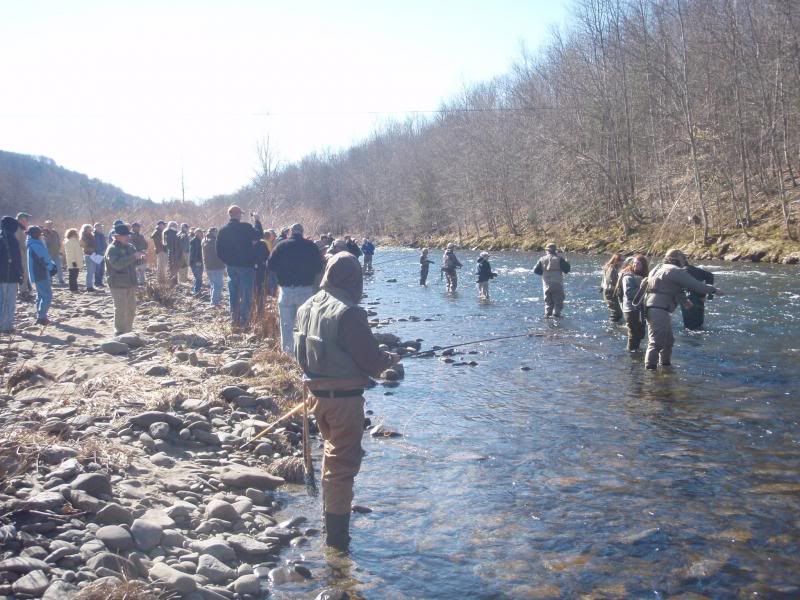 Speeches were made, celebrities accounted for and after a few false casts the official, unofficial season starts. Back to the museum for Agnes's soup and cake, more catching up and I started my tying shift. Alot of the guys went to Canazon's casting event at the LM school, I heard there were some really nice Paynes there as well as the newest winter rods that were built, and that it was well attended.
There was a snooty-falooty lunch being served in the new building at the museum, somehow I got asked to attend [a grossly negligent mistake by someone no doubt
] and I got my first official tour of the beautiful, roomy and well thought out addition to the Ed building. The shop area is huge, well lit with big windows and power outlets everywhere, plus you can access the old building from there. The upstairs is equally beautiful, with a bathroom and storage space for tables and chairs, it also is open to the old section. What a project, and what a terrific place it will be!
By the time I was done at the museum, I didn't have too much time to fool around with the Two-headed trout dinner starting at around 6:00, so I made a quick stop on the Willow to try a few casts just in case the warmer air coaxed some bugs into hatching. I bumped into Bob Herson, we talked for a few minutes, trading our thoughts on cold water fishing and I headed upstream to cast and drift, cast and drift without ever feeling the bump of a fish. It sure is nice to be back on the water though, fish or not, I really missed this place!
You can really see the snowmelt green water in the photo here...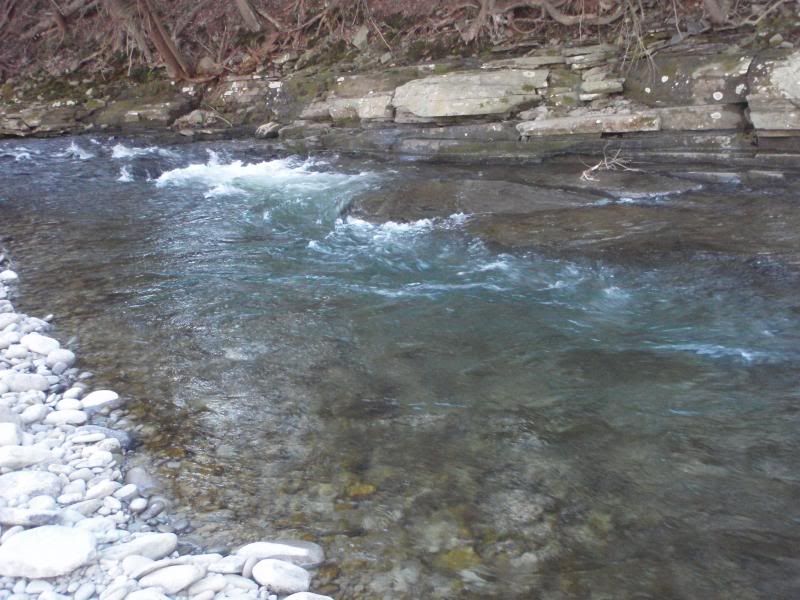 The dinner was a packed house. Foxy Joe, Johnny Hardware, Jimmy, Dan, Ronbo and I were on the end of one of the long tables, and as guys were added to the list, so were smaller tables. Dan from the Riverside and a couple of his buddies sat with us after they added a small table to ours and we had a really good time talking about all the worlds problems and how to solve them, with Hardware Johnny, as usual, having the best solutions
.
This morning I had some work to do at the house, and on the way home I stopped in town for a Sunoco C-store lunch and pepsi. As I always do, I walked down to the bridge over the stream. They have a really nice lighted bridge closed to car traffic, but convienent to fishermen looking for bugs that are attracted to nightime illumination. Sure enough, there were smallish stoneflies all over the railings, sunning themselves before their abbreviated lifespans come to a close.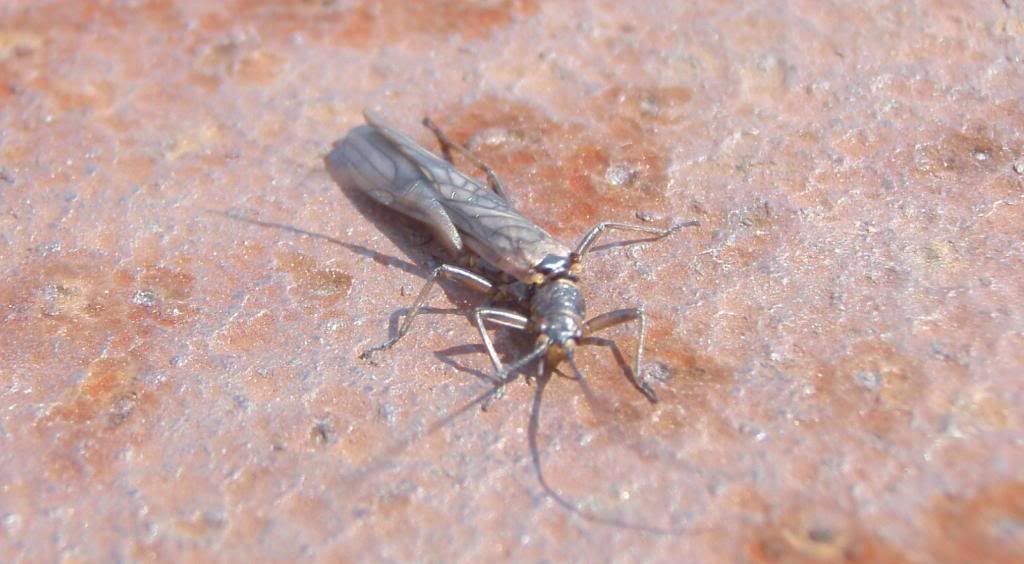 I peered down into the water, stared for a minute or 2 and before my eyes a trout appeared. As my eyes adjusted to the speed of the water, the rippling from the wind and the light, I counted over 15 fish in this area. There
are
trout in the streams, and in 2 weeks I will be looking for them again! CJ