He's the last living member of the classic Letort school of fly anglers. He's spent his entire life roaming that famous Pa. limestone creek---going back to his boyhood. And it was a true honor to accept his gracious offer to spend an entire day with him yesterday---touring the famed Letort Spring Run. It was also a great honor for me to include Ed in "the new book"--since he was one of
my heroes
going back to Feb. 1968 when I read one of his first magazine stories.
-We met for breakfast, and after a very long chat about "the old days" Val and I climbed into his conversion van for the tour of a life time. We stopped here and there along the road, climbing out of his vehicle at several stops along the way. First, Charlie Fox's stretch, then the famed Otto's Meadow (it's in Marinaro's book). Then, the upper stretches. Ed told his tales and remembrances as we walked along that historic little creek.
It was
6 hours
of talk, chat, and personal tour. Val shot dozens of photos of us. What a treat.
And then---he showed me, and pointed out on the stream, the home of "Old George"---that big 27 1/2 inch brown trout that I described in Ed's chapter in the book. And he told the whole story----one I first read decades ago. But this time I learned more, from the man himself, in "real-time."
Then, we stopped by the Yellow Breeches fly shop---chatted a bit there. Then a
very long lunch-
----and still more chats and tales from Ed.
Ed Shenk---master of Letort Spring Run. A Pennsylvania classic------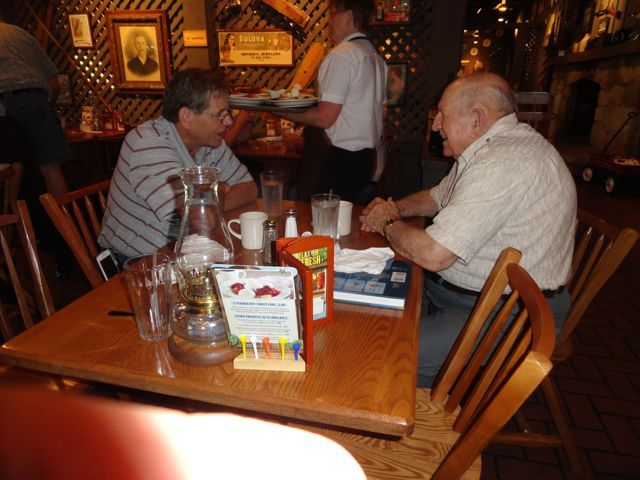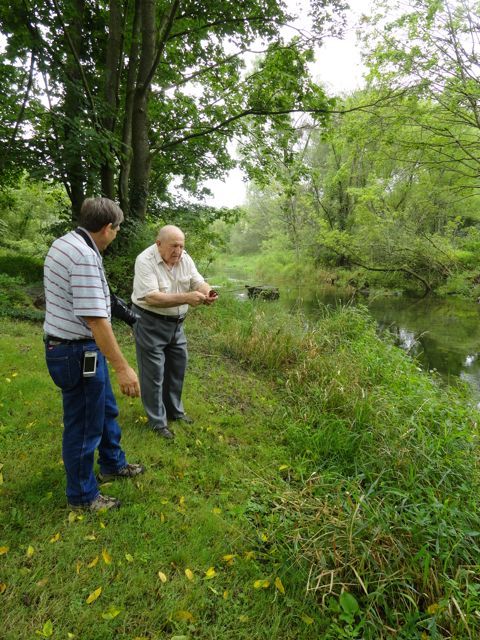 E
d at the home site of "Old George"---that big bruiser that "shook his head like a punch-drunk fighter" when Ed finally caught him, nearly 50 years ago.