Arrived yesterday, Friday, around 2:00PM. Foxy was busy setting up his massive booth; looks like he brought along the entire shop! The show didn't open until Saturday, but I quickly snapped up a few things as he was hanging materials on his display racks---stuck his first $20.00 in his pocket.
-Stopped by Charlie's (Collins) booth while he also was hanging capes getting his booth ready. Chatted about a half-hour, then moved on the the Patlen brothers booth. Teddy was doing more talking than setting up. Clouser stopped by.
-Meanwhile, wife Val was walking around the show floor with Brooke's newborn baby. Ben and Brooke were busy setting up their Angling Book Store booth, and Val stepped in to help out Brooke with the baby.
-Then came dinner last night (Friday). The Hardy guys treated us at a local French joint---wow, what a treat. Lots of wine and good food. Steve Fernandez (from California), who ties an awesome Catskill Dry Fly, came along and we had a long dinner chat about the west coast tying greats.
-Then back to the hotel. Brandt still had not showed up with Bobby Mead, so we dug into the
Newcastle
at the bar he special ordered in advance. Massey the hook guy bought round of drinks.....
-More updates later!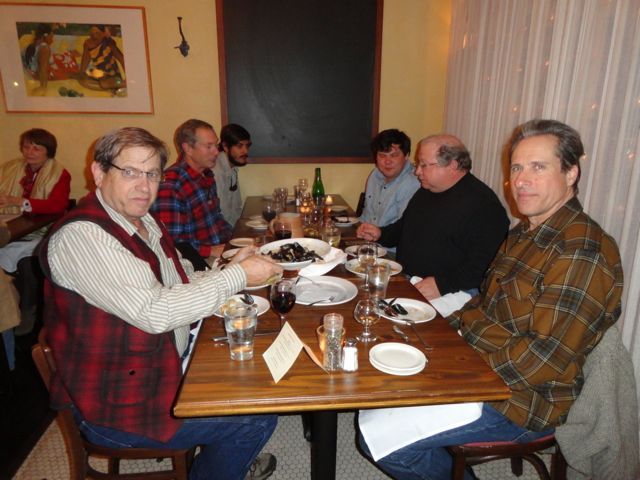 Steve, on right, has amazing stories!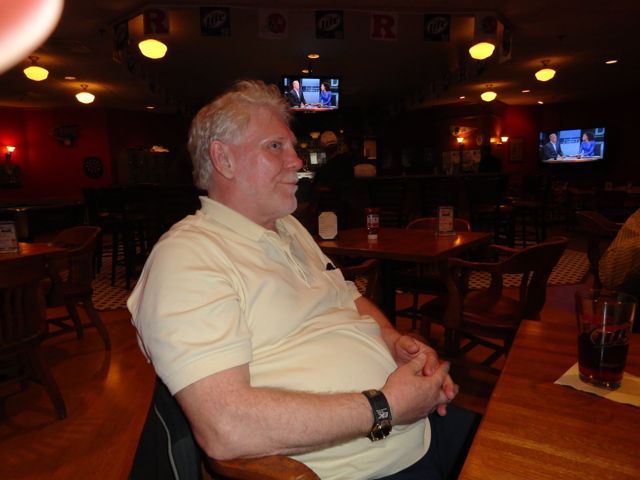 The "hook man" drinking Brandt's
Newcastle.