Inspired by a response to another thread on this board, I had to ask this question. What's
your favorite cane wet fly rod
?
Without any doubt, or hesitation at all, mine is a #17 Heddon Black Beauty, an 8½ foot, 3/2, 2f, 6 weight. To complement this old bamboo fly rod I picked up a Pflueger Medalist 1494 One-Pfoot reel and a classic Cortland DT6F Sylk line, to glide through these old, small cane rod guides, while fishing this piece of Americana. From late June through September, there is no place in the Catskills I'd rather be than swinging wets with this old Heddon than on the Esopus, catching wild 9 inch to foot long wild rainbows, when conditions are right. I'd never want for anything else at all under these ideal circumstances.
Here's the rod with a couple Jennings Iso's on the long end of the tippet: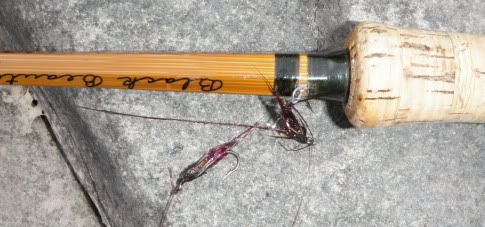 And here's the rod with a small silver bullet that succumb to an oversized wet Jackass: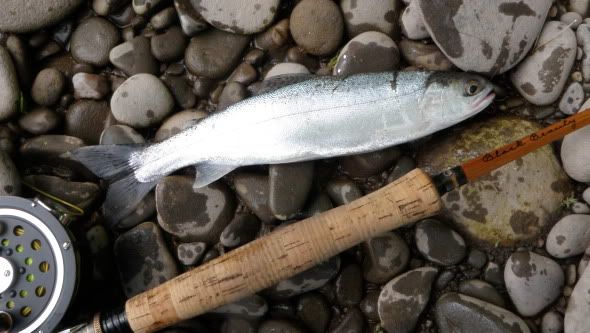 And finally, here is a wild bow I took on a dry fly, all on the Heddon Black Beauty:
It took me several years of research on Heddons before I ended at this point; I posted many a question on Clarks Classic Fly Rod Forum about these old bamboo rods. I read plenty about issues of rods breaking cleanly at the ferrules, probably the result of a manufacturing flaw. And, I talked to several bamboo rod builders about this problem; however, after years of lying in the bushes stalking, lusting a Heddon Black Beauty, I pulled the trigger in early 2010.
I love that damn cane rod. The first trout that I ever landed on it was a wild 21½" brown in April of 2010, on the Esopus just above the Trestle that has since succumb to Irene. I prayed that fish to the beach before releasing it, all the time concerned about the rod's delicate tip. Late that afternoon the Heddon and I were successful, but in future days in the 2010 season, not so. Both tips cleanly broke on me while casting.
I've since had the original ferrules reset, with both tips identical in length – an inch and a half short. Still, I love that Heddon Black Beauty as my favorite wet fly cane rod; on streams a cast of 30 feet would not put one's offerings in streamside vegetation.
So what's your favorite cane wet fly rod?
Ed