Many thanks to bearbutt for stoking the fire for this topic. I think hook hoarding is one part of the progression all serious fly fishers work their way through: first it's flies proper, then boxes, wallets & cases. Accessories, then reels, and rods, then grass rods. Then, and only then, will you start to seriously tie.....materials, vices, more materials.....and hooks! And more hooks! What follows is part of my.....collection. Show us what you have!
Attachments

IMG_3700.JPG (633.66 KiB) Viewed 5090 times

IMG_3699.JPG (604.19 KiB) Viewed 5090 times

IMG_3612.JPG (930.75 KiB) Viewed 5090 times
"Time to go fishing"
---
The goody box ...to think that most of these cost a few $$ new.
Attachments

IMG_3607.JPG (1.23 MiB) Viewed 5089 times
"Time to go fishing"
---
Some really nice stuff there, Theroe, especially your Allcock stash.
---
Neat collection for sure!
---
Holy cow....what a stash! I'd love to see what some others here have? CJ? Ted? Ed?
I can't figure out one of your boxes though--lower right of this image, I circled it in red--what's with the "DO NOT EAT" warning? I don't remember seeing this on a box of hooks before? Is this the silica dessicant that you use when storing your hooks? If so, it brings up a good question about how we store our hooks--. I'm ashamed to say I don't do anything special--they're in wooden chest, plastic tubs, on my shelves...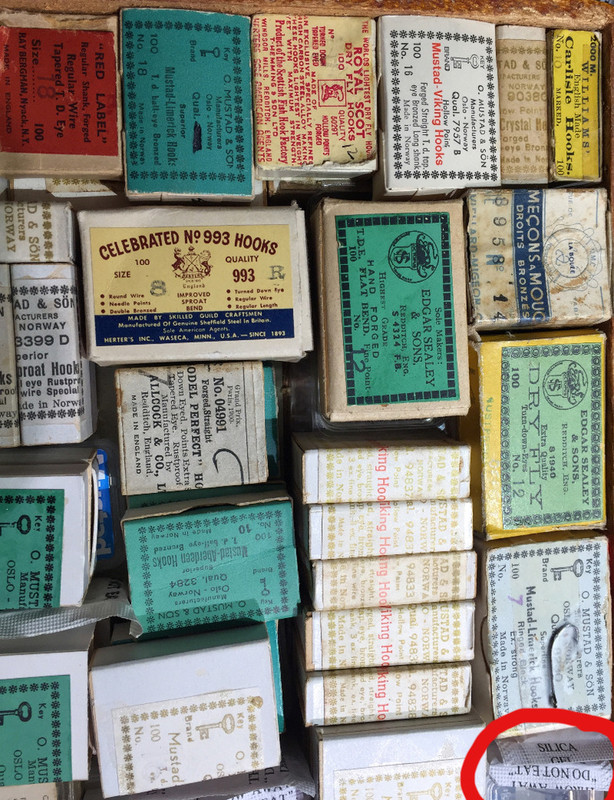 bb
Last edited by
bearbutt
on Sat Jan 11, 2020 12:53 pm, edited 1 time in total.
---
Here's one photo from my wooden travel box--sort of like a Gerstner. My hooks are all over the house (literally, I really hear about it when my wife finds one in one of her socks)--I'll see if I can take some photos later int he week.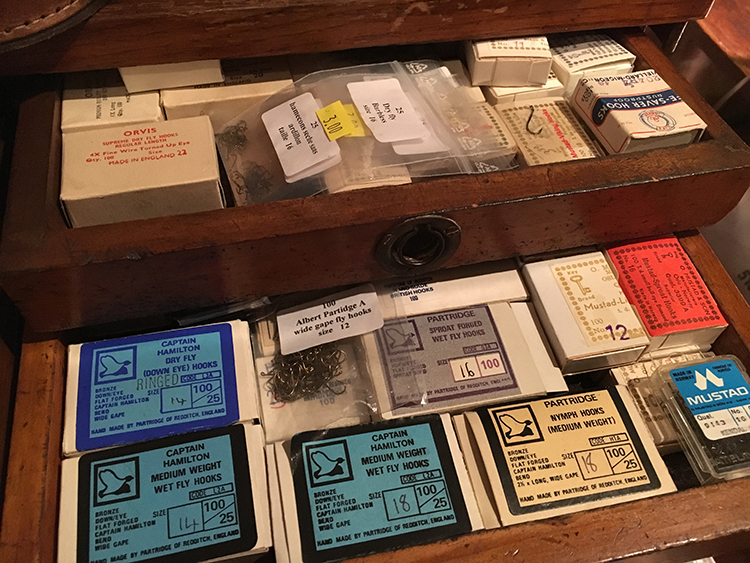 bb
Last edited by
bearbutt
on Sat Jan 11, 2020 12:54 pm, edited 1 time in total.
---
Those are silica gel packs - they come with electronic stuff, to keep moisture out(they absorb water). I recycle mine - once a year I put them in the oven overnight...the pilot light drys them out. Most of mine are in wood cigar boxes, except the main cache, which is in an old steel chest that was made to display drill bits in a hardware store....had to go this route after the wife banished man-mess related items to the basement. Nice collection btw!! I see you have some VMC hooks as well: do you use them for a particular pattern??
"Time to go fishing"
---
Theroe wrote:I see you have some VMC hooks as well: do you use them for a particular pattern??
I don't have many Viellard-Migeon hooks--wish I had more--but the ones I do have, I like: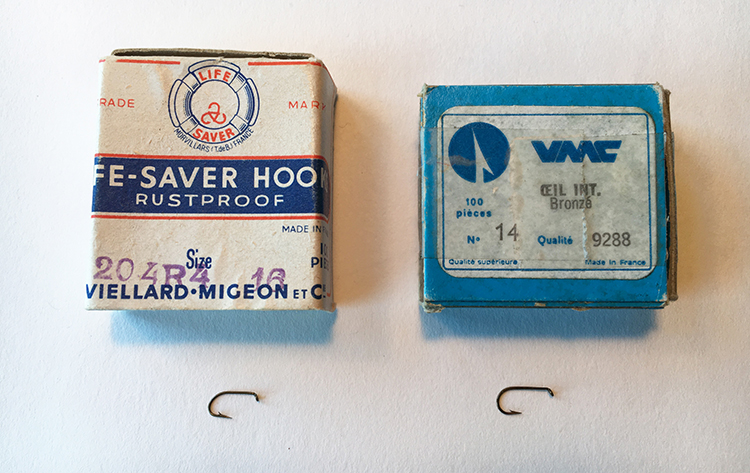 They seem 1x or 2x short, a nice gap--. I wish I had a catalogue with all the specs, that's why I make the hook charts to see just how each unknown hook compares with a known one--. Sometimes it seems to make a world of difference, the right hook for the right job, but sometimes I'll just use what's in front of me. The VMCs I have are quite light--so I like them (as I said in the Mustad thread) for CDCs--and also for light-hackled olives.
The cigar box idea with silica gel sounds like a good idea--. There used to be a great used book shop/cigar store in Lake Placid called "With Pipe and Book" where I used to get a couple of empty boxes every summer--they are great for pencil boxes and other drawing materials, and all kinds of things--but they closed 5 or 6 years ago, alas. Lake Placid hasn't been the same since then.
bb
Last edited by
bearbutt
on Sat Jan 11, 2020 12:55 pm, edited 1 time in total.
---
Something about arcane hooks:
Not long ago I picked up something interesting at an angling auction: Datus Proper's travel fly tying kit. His book "What the Trout Said" is pretty good--he talks a lot about various issues related to fly design, and also talks a lot about hooks--complains most are inconsistently sized, a fact we all learn sooner or later. Proper believed every fisherman should tie. And he also believed that one should tie often, even when traveling on fishing trips. "In earlier centuries, every competent fisherman carried his 'book' of silk, feathers, hooks, and scraps of dubbing," Proper wrote in "What the Trout Said." Such a book need not be large, he explained. His own kit, he said, "measures only six inches long by four inches high by two-and-on-half-inches thick, fully stuffed. It is very well made of pigskin. It has a box for tools and thread, six envelopes for other materials, an end pocket in the actual pigskin, two parchment envelopes (with six pockets in each) which I sewed up myself for dubbing, and a sturdy strap around the whole thing. The kit carries the old American 'Common sense' label." I have posted a few of these photos before, but will post them again with some new ones:
I have to say I was surprised when I bought the little pigskin wallet, as I had not realized it was the actual one he wrote about.
It's small, as he said: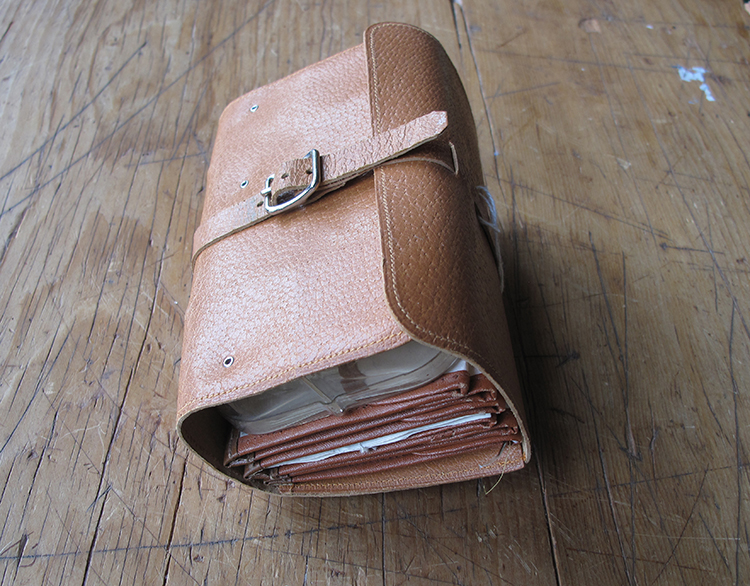 It has the homemade dubbing pockets he sewed using parchment: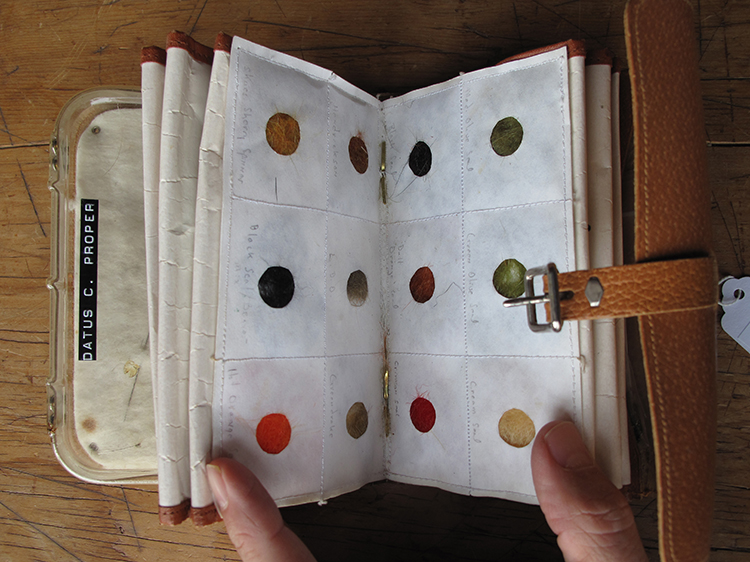 The sleeves are filled with small bits of fur, hackle, and feathers--even a square inch of polar bear: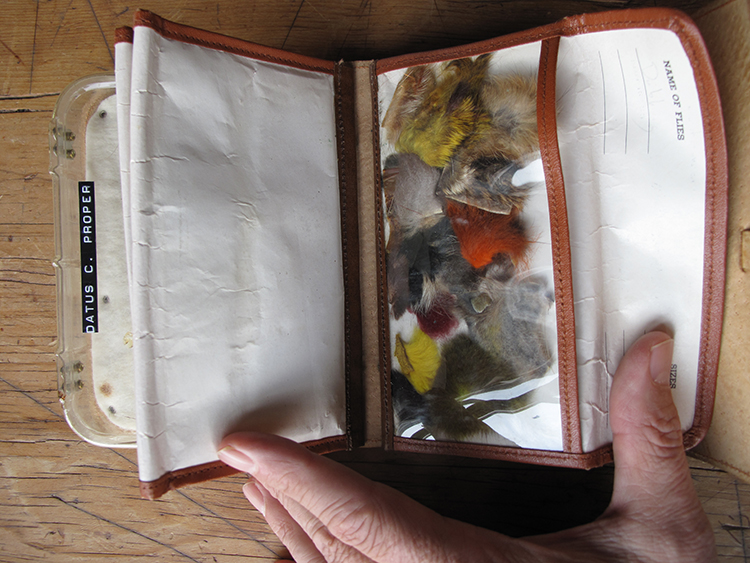 And some of the hook packets are cool, Veniard hooks! Also some hooks I had not heard about before: Saville hooks in size 17, and Partridge Skues sneck hooks in size 15—Proper, like the Darbees, was partial to numerically odd hooks: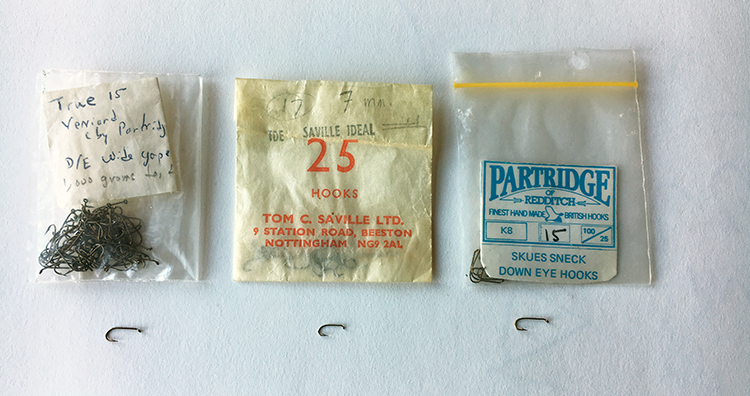 The Skues hooks are reversed—I can't say I have noticed it ever mkes a difference. But I do like the vintage Veniard hooks quite a lot--.
bb
Last edited by
bearbutt
on Sat Jan 11, 2020 1:00 pm, edited 1 time in total.
---
I don't know what to say here , You guys have something very special going on & with one foot in the door taking a peek into the room , i can vision its going to be a journey I can't imagine .

thanks for sharing Hook I
If it has fins I want to catch it .
---
Users browsing this forum: No registered users and 5 guests