The story I have that goes along with this fly is much too long to write here, but to be sure, it was a 3 year search that involved an old man with a magazine, Rob [bamboo&brookies] and Phil Chase. In a nutshell, the old man was a friend of mine that fished the Cats. in the 30's and he gave me a Sports Afield from 1979 that had a story on the Comeback of the Delaware that he thought I would be interested in.
The story written by Phil and Larry Madison gave a smidgen of info on a fly described as "a caddis spider made with wood duck feathers" that was originated on the Neversink and used by Doc Cinberg.
I tried for a few years to find any info on this fly, tried to imagine what a spider with wood duck feathers would look like, but came up with nothing.
Then one day Rob called me and was telling me about Phil, they were fishing together and Phil told him some great stories about the Neversink, which is Robs stomping grounds, and in the conversation something clicked, the magazine, the Neversink, wood duck! It was an epiphany, and my life was complete, at least for that day!
I got an email from Rob that Phil sent him describing the tying of the fly, its a little different, and that adds to its charm. I have been keeping this a secret but Rob gave me the OK to let the cat out of the bag so patterns like this dont get lost forever.
Anyway, I hope I did it justice, out of respect for Doc and Phil.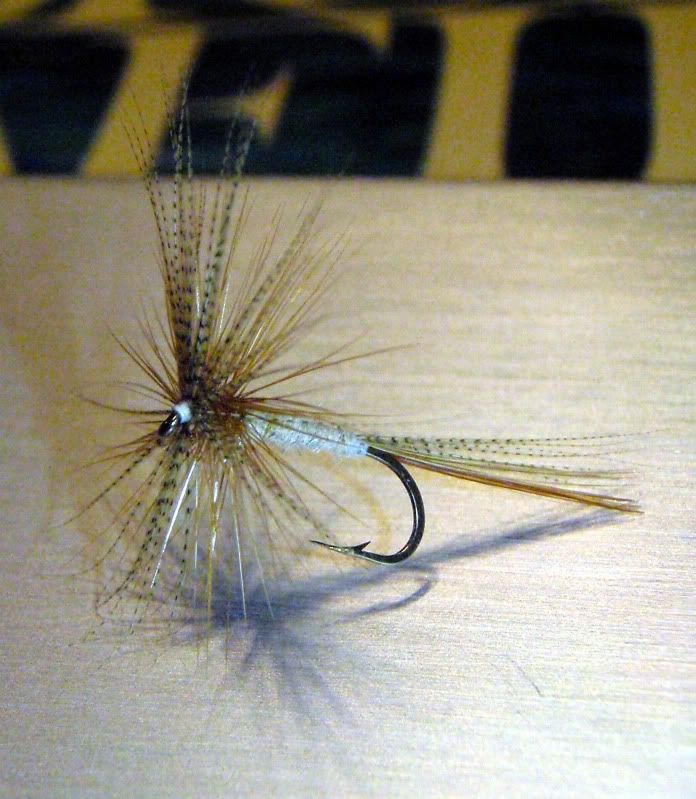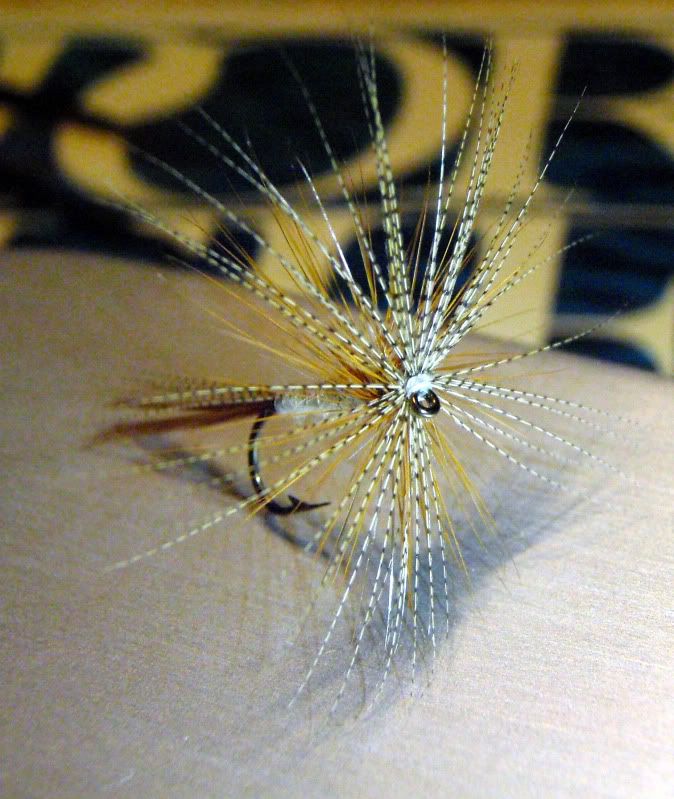 Tail, brown spade hackle fibers [Phil likes to add some WD fibers in the tail, the original did not have them]
Body, tan fox fur
Hackle, brown or dark ginger fronted with wood duck. The WD is not wound like the hackle, it is tyed on first with the tips pointing forward, the rest
of the fly is tyed, tail, body and hackle, then after tying off the hackle the wood duck is pulled back, the thread wound through to the eye, and the wood duck gets worked back with a thread dam in front of it, forcing it back towards the hackle.
CJ