I'm willing to bet that during these chilly Catskill winter months, many a fly tyer sits at his/her bench dreaming of the super hatches whether they be Hendrickson's, Green Drakes, or even little Stonefly Sallies on headwater brook trout streams. For the Esopus, it's the Isonychia that the majority of fly fishers relish most. At times they appear by the hundreds, if not thousands, with creekside rocks absolutely covered with their shucks.
Iso shucks,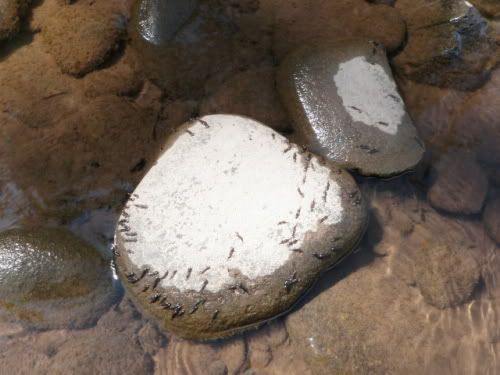 Isonychia spinner, the last adult I happen upon one very cold, windy final day of this past October, a cruel Halloween trick of nature,
Given the numbers and duration of Isonychia on the Esopus, over the years I have come to rely upon four dry fly patterns to see me through the season. The Iso four – from left to right, Fran Betters' Chocolate Haystack, an Iso Spundun, a Parachute Mahogany Dun, and the venerable
Hairwing
Royal
Coachman,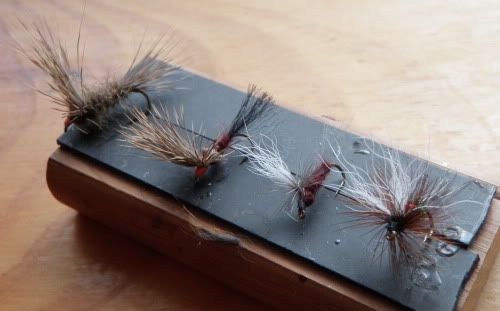 More on each dry fly below.
The first fly, my buddies would laugh at me, scratching their heads when I first shared it with them. It's big, buggy and ugly; but it's magical – if only for a very short time period. One good friend, Sweetpea, went so far as to label it a
"Disheveled dry fly"
. Problem with this guy is he's an ardent Frederic M. Halford dry fly man that is totally incapable of tying a nymph to his tippet, let alone fishing it with any kind of know-how. But, I must say of my good fly fishing buddies, no one ties a dry fly as nice as him and that's why he can't tie a Haystack properly.
Esopus Creek Iso's first appear in late May, early June, and as I noted fishing a Haystack then can be magical but only for a week or two. Exact timing of this hatch is difficult to judge and highly affected by New York City water releases from the Shandaken Tunnel. Between November 1st and May 31st of the following year, NYC DEP can release any amount of water that they want from the Portal under existing water release regulations. Fortunately, the last two seasons spring flows on the Esopus have been excellent, as was the fishing.
I tie my Haystacks one way only; on a #10 Mustad 94840 hook using hot fluorescent orange thread, deer hair for the tail and wing, and dark hare's ear mask for the body.
Haystack, #10 Mustad 94840 hook,
Sweetpea's disheveled dry fly,
A 16½ inch wild bow that succumb to a #10 Haystack, which I was particularly fond of as I was following Sweetpea upstream, fishing behind him on the Esopus,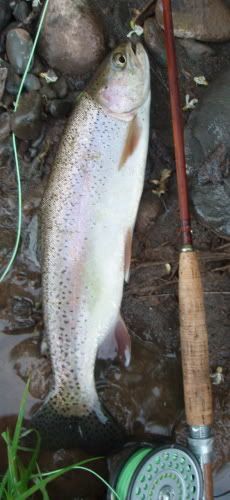 Once the Haystack loses its magic, and it will, the next hot dry fly was introduced to me by my friend, and hard working TU member, Tony. It's called an Iso Spundun looking a lot like a Comparadun except for the tuff of deer hair left behind the wing to aid in floatation, or so the theory goes. The Spundun is a generic pattern that Art Scheck wrote about in the March/April 2003 issue of
American Angler
magazine. I only tie one Spundun, the Iso, and not exactly as Scheck and Tony do, but this works fine for me.
My variation of a Iso Spundun, #14 Mustad 94840 hook,
Thread: Hot fluorescent orange, a la Fran Betters
Tail: Black z-lon
Body: Isonychia beaver dub
Wing/tuff: Deer hair
Hook: #14 Mustad 94840
If you notice, the hook size of my dry fly was dramatically reduced from a #10 to a #14. Not being much of a "bug expert myself", I think there could be two separate and distinct broods of Isonychia on the Esopus; initially very large than smaller as the season progresses. Sometime in June through July, the Esopus Iso's will disappear before reappearing with a vengeance in August through October, along with giant stoneflies.
Dry fly number three is more of a niche pattern that works well when all the others don't. I contribute this to two factors: (1) the silhouette is much slimmer than the Spundun, and (2) I feel trout sometimes take these for Olives that might be present the same time Isonychia are in summer evenings.
Back to Sweetpea for a moment; I only fish flies that I tie myself with one exception. I tie my Parachutes on a #14 Mustad 94840 hook, my buddy ties his on TMC hooks with an extended body. His flies can be deadly at times, identical pattern – different hook; and I can't pry enough of these flies away fom him to use myself.
Three Parachutes, my two on the left – Sweetpea's on the right.
And I also was wondering if there's a difference between
"fishing flies"
and those we might post on the Internet for others to look at? For one, when I tie a dozen or more flies at a sitting, I try to be neat but also fast and efficient. Sometimes I spilt the tails and sometimes I don't; I don't think the trout care either way.
And CJ – note, some of those microfibbets you discussed before.
Dry fly number four, the
Hairwing
Royal
Coachman. On various boards, including here, I've read a few comments that some folks don't care much for the old Coachman, that's fair enough as it wouldn't be my first choice for a spring creek or tailwater flat either. That said, you might want to lay your hands on a copy of Arnold Gingrich's
The Well-Tempered Angler
and read Chapter 6,
"Preston Jennings for President – or, There Is a

Royal

Coachman"
. It seems old Jennings called the Isonychia the
"nymph phase of the

Royal

Coachman"
. So hell, if it was good enough for Jennings, it's good enough for me too.
Hairwing
Royal
Coachman, #12 Mustad 94840 hook,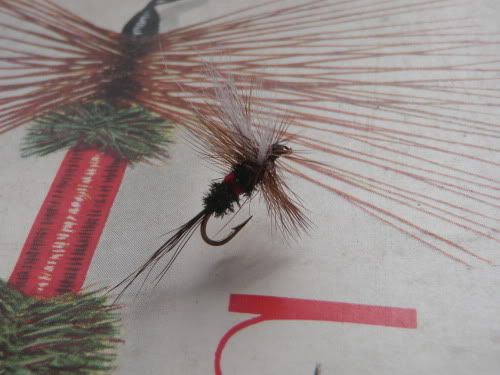 By the way, one day this past fall I was exploring a favorite section of the Esopus where there were quite a few BWO's and a couple Isonychia about, but no signs of any feeding trout above or below the surface. Nonetheless, I pounded the fast water with a
Hairwing
RC managing one hit, but it was enough. I believe this was only the second time I used a new AJ Thramer Leonard 50DF cane rod and knew I hooked a nice trout when it took me downstream some 75 yards or so before I beached it. It taped out to be 18½ inches of wild chrome-sided reservoir run rainbow before I released it. So I second Gingrich's motion, Preston Jennings for President.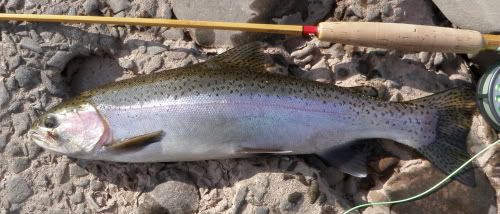 So that's the story of Esopus Creek Isonychia and disheveled dry flies, including the big four. Some day when I finally grow up I hope to tie a few Art Flick Dun Variant's and just maybe four will become five. If you have any questions about these Isonychia patterns, don't be afraid to shout out and ask, as for the when and the where to fish the Esopus Isonychia, I've said all I'm going to say, the rest is left for you to decipher. And by the way, I could probably narrow the four patterns down to two that would include the Iso Spundun and
Hairwing
Royal
Coachman. If forced to go with just one pattern, it would be the
Hairwing
Royal
Coachman.
Good tying, and better fishing in 2010.
Ed
PS - For a "small finder's fee", I might be able to hook you up with Sweetpea directly, but let me warn you --- he's high maintenance...