Here's a version of a thread that got lost Tuesday night, the eve of the first Catskill snow storm this week; so let me try it again. Believe or not, the Fanwing Royal Coachman is a Catskill classic dry fly, though perhaps with a somewhat disputed background.
Cecil Heacox, in his
The Compleat Brown Trout
, notes on pages 140-141 that the Fanwing Royal Coachman is Catskill-born. He goes on to say that in 1917 it was originated by Thomas and Chester Mills, of the well known Thomas Mills and Son fishing-tackle shop, one day after fishing the Esopus Creek with Hiram Leonard, the famous cane rod maker. Being an Esopus fanatic, this was always the story that excited me. However, recently Ed Van Put, in his masterpiece –
Trout Fishing in the Catskills
, reported that the Fanwing Royal Coachman was the creation of Theodore Gordon. Knowing Ed, I tend to put my stock in Van Put, but either way the Fanwing Royal Coachman is a Catskill-born dry as Heacox said.
Fanwing Royal Coachman, #12 Mustad 94840 -
Rear view, same pattern -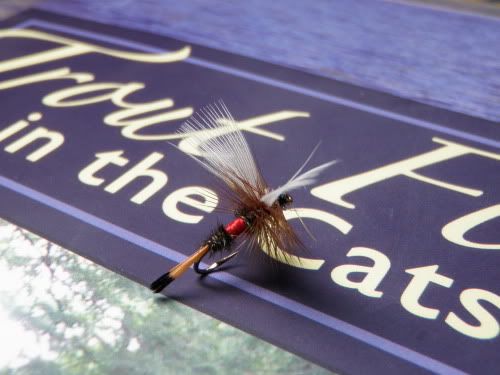 In this age of antron, z-lon, and untold numbers of synthetic tying materials --- I doubt many fly fishers still fish the Fanwing Royal Coachman. On occasion I still do when Isonychia are hatching on the Esopus. However, my casting stroke is short – with minimal false casts while using a stout – 4x or 3x – tippet. Without a doubt, the Fanwing will twist your leader, which in and of itself isn't all that bad. On numerous occasions I have witnessed the end of my tippet unwind as it floated on the water's facade causing the Coachman to magically dance and roll on the stream's surface, often arousing sleepy trout from below into aggressive takes.
So, while the Fanwing Royal Coachman might rarely see the light of day on many fly fishers' leaders anymore, it's still a classic Catskill dry fly and not totally forgotten.
Ed