A recent response to a thread of mine on this board ignited me to do a bit of research on Bill Dorato, and tie a few of his famous – but maybe almost forgotten – Dorato Hare's Ear. Much of what is written below was obtained from two reliable, but unnamed sources.
Bill Dorato was born in the Albany, NY area and frequent fly fisher in the Catskills. He was founder of the Clearwater Chapter of Trout Unlimited in Albany, one of NYS' largest and most active TU chapters. His friends included the likes of Frank Mele (author of
Small in the Eye of the River
), noted angler/author Dick Talleur, Dud Soper, and an army of other ardent – and some well known fly fishers, like Lee Wulff. Bill passed away in 2000, and an article in the Nov. 15th, 2000 Albany Times Union speaks glowingly of a much loved, ardent conservationist. Somewhere, either on this board – or maybe Clark's – I vaguely recall a photo of Dud Soper and maybe Bill Dorato, or Sober and Flick. My memory isn't what it use to be, and I was handicapped in this department to begin with. I think that photo
might
have been posted by Mike Valla or Eric Peper – ring any bells fellows?
So inspired by this little bit of research, I tied a few Dorato Hare's Ears for the first time ever based upon Talleur's
Trout Flies for the 21st Century
, page 20. The recipe follows,
Thread: Brown or camel
Tail: Mix of brown and grizzly hackle
Body: Gray-brown hare's ear dubbing
Wing: Lemon wood duck
Hackle: Mix of brown and grizzly
Dorato Hare's Ear, #16 Mustad 94840 - poor lightning:
Here's a better image, of a different fly - #16 Mustad 94840 - taken yesterday, but showing a stray wood duck barble. Man, those macro-lens magnify every mistake -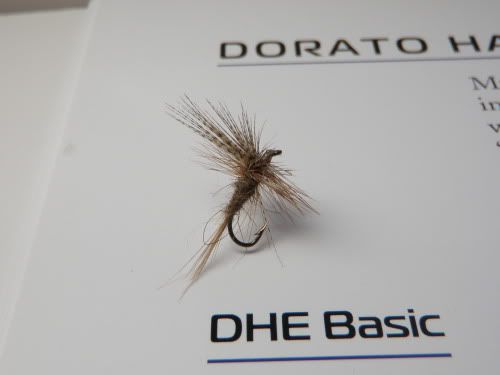 Talleur reports that Dorato intended this pattern for newly hatched caddis. One of my sources – his picture is in
that book
,
Tying Catskill-Style Dry Flies
, page 202, tells me that he ties/fishes this pattern in sizes 16-20 with success for tough caddis feeding trout, only the tail on his pattern has two splayed grizzly hackle tips. That's all I'm saying as I probably just ruined another fly fishing friendship by ignoring that WWII Navy motto my uncle/Godfather taught me a long time ago,
"Loose lips, sink ships".
Ed