Family: Isonychiidae [eye son ick e day]
Genus: Isonychia [eye son ick ee uh]
Species: bicolor [by color]
Also know as the white gloved howdy, its one of the Catskills staple mayflies. These are found most of the year from late spring to the fall and are most active from the middle of June to the end of July, but you will see them late in the season. A great dry fly insect, the Dun Variant has been imitating it since Art Flick first tyed it, but any #10 or #12 dark/ brown dry fly does a good job. The famous Leadwing Coachman is the wet fly for this hatch, and the Zugbug and Prince nymph do deep water duty.
Here is a Iso spinner, taken on the Willow Aug 6th...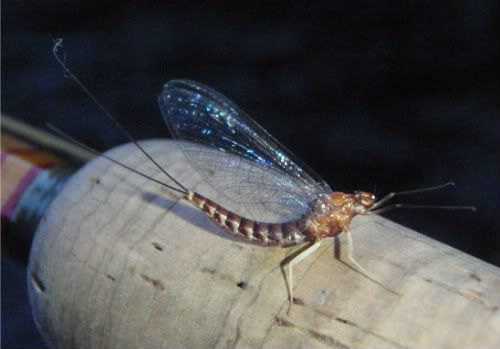 And another from the Big "D"...
Info from Caucci's "HATCHES II" and Tom Ames's Hatch Guide
CJ