Finished filling all my 2012 streamer needs, at least for now anyway. I whipped up a few Fran Betters Mini-Muddlers; if I could only fish 10 different fly patterns the entire trout season, April 1st to November 30th, Betters' Mini-Muddler would easily be one of those ten patterns.
Mini-Muddler, #10 Mustad 9671:
I recall walking into Fran Betters shop back in the late 1960's, buying a few flies, seeking some information about fishing the West Branch of the Ausable River. I don't know how the conversation came up, but he highly recommended a Mini-Muddler. He even gave me a tip; fish it dry covered with mucilin, then pop it under the water's surface, and let it rise to the stream top like a hatching insect. It works; I've done that more than a few times myself. This pattern has been in my fly box since the late 1960's, tied on #8 and #10 Mustad 9671 hooks. I've fished it lot as a wet fly/small streamer, dry fly in the pinch for hoppers, and even nymphs when I add some shot to my tippet. It's a real "go to" fly, that saved more than a few outings which would have been fishless otherwise. Betters book,
Fran Betters' Fly Fishing – Fly Tying and Pattern Guide
is a real nice resource, several patterns in there you shouldn't be without.
As for the Muddler Minnow, it's hard to go wrong with this streamer, and its many muted variations. Another nice book for serious streamer fishers is Galloup & Linsenman'
Modern Streamers for Trophy Trout
. I picked up a couple nice rabbit strip Muddler versions in there, including Kiwi Muddler and the Madonna. The Kiwi I tend to use early-to-mid season; once late September rolls around, it's Madonna time.
Some Muddlers, from left to right: #4 Muddler Minnow, #4 Yellow Marabou Muddler, #4 Kiwi Muddler, #4 Black rabbit-strip Muddler, #4 Madonna: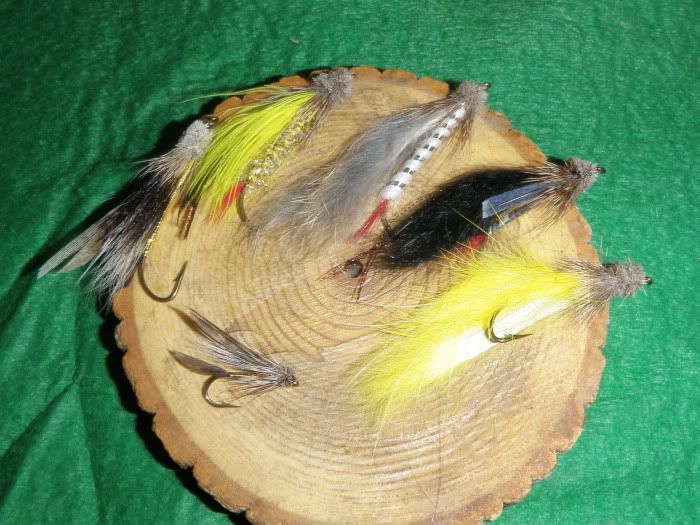 I don't fish the Yellow Marabou Muddler much anymore; it also was a fall streamer - the Madoona has replaced it. But I recall one mid-September day on the upper Hudson River, just upstream from its junction with the Boreas River in back country. A huge brown crushed that Marabou Muddler. I went back to the section of the Hudson seveal times, over different years but never caught anything there larger than 17 inches, though I never forgot that big brown either.
Also tied up a few Mickey Finns today. Probably not the favorite of a lot of SGM board members; I use to chuckle at the very mention of this bucktail also, but no more. I've watched our oldest son catch too many fish on the Mickey Finn while I tossed classic patterns, like the Grey Ghost, practicing my casting and not much more. There are a few flies that seem to be just a notch above fishing worms, that always seem to catch tough fish. A small Crowe Beetle seems to move selective feeding browns, a Woolly Bugger is just plain deadly, and then there's Mister Finn, the Mick. Say what you will, the Mickey Finn works. By the way, I tie mine with fluorescent yellow and red deer tails, they seem to work better.
Mickey Finn, #4 Mustad 9575:
On to tying nymphs next.
Ed