(note, January 2020: the original image links, hosted by Photobucket, were lost; I have gone through the posts to try to relink the images to a new host. A few images have been lost, but I have recovered most of them. bb)
It was a long winter and spring for me—a new hip in January, and a new knee in March—so it wasn't until June that I could get on the water. For some odd reason, I got into my head the idea I'd tie a 'few' Carrie Stevens streamers—the Hilyard book had landed in my lap during the winter, so it seemed like a reasonable challenge to learn how to tie a Stevens fly the way Stevens tied them—glueing up wings and cheeks, and assembling the streamers in a deliberate way. `
I was actually naïve enough to think I could do this with materials I had at hand—God (and my wife) know I have a 40-year stash—but after going through dozens of saddles, looking for the right balance between stem stiffness and feather shape, I realized that a good Carrie Stevens streamer requires a very particular feather. And a very particular hook. And a very particular tinsel. And a very particular floss. And…..
So the first challenge was sourcing materials--. I ended up using some older rooster capes instead of strung hackle (so it was easier to pair right and left wing assemblies). These came from different breeders, and I got mostly white because I also realized I'd have to do a lot of dyeing—contemporary capes are dyed very intensely, especially the more fugitive colors like yellow, pink, and orange. I used RIT dyes, the kitchen stove, and a lot of caution—plus, I had the opportunity to do it when my wife was out of town. The test runs involved getting the colors right, and then batch dyeing whole capes, or groups of right/left hackle: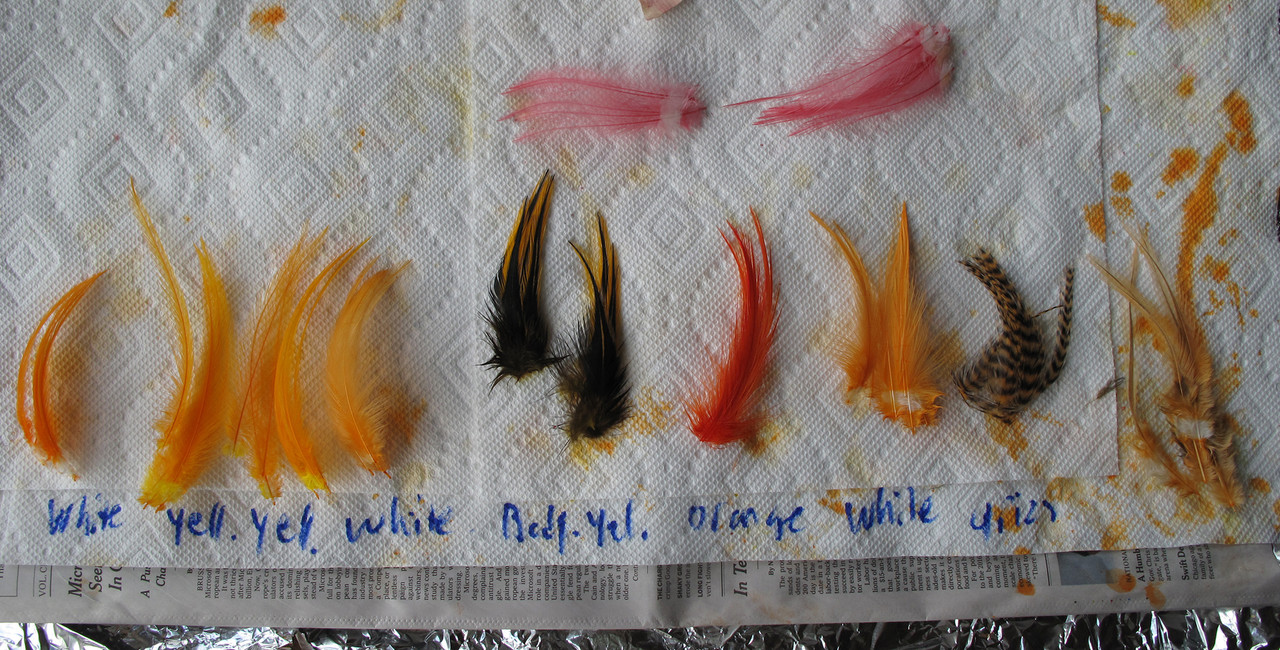 One advantage of dyeing your own hackle is you can overdye, and get some subtle overlapping colors—like this greenish-orange: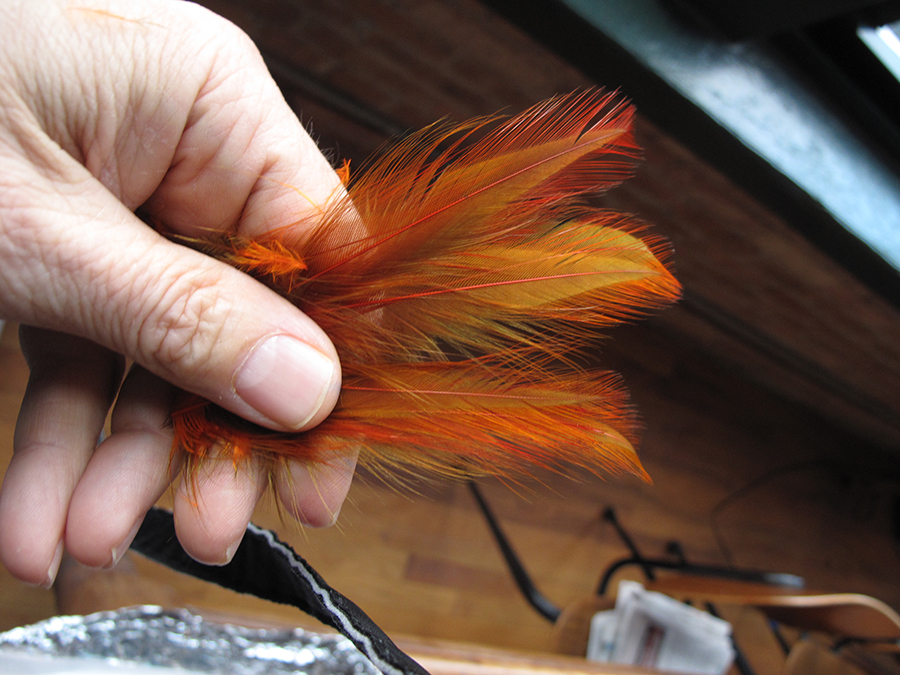 Many of Carrie Stevens' patterns involve 'layering' hackle literally—for example, the Firefly requires layers of dun, yellow, then orange wing hackle—so overdyeing complemented this. Besides the hackle, there were other materials to deal with—hooks especially (Allcock's 1810 in 6 and Martinek 8XL in 2 and 4 were most commonly used in the end). I also used Allcock 2811 looped eye hooks for the FRS patterns that used bucktail and copra. But to get to this point I ended up experimenting with a wide range of hooks—all seemingly similar, yet so very different in subtle ways. This was my hook 'work sheet':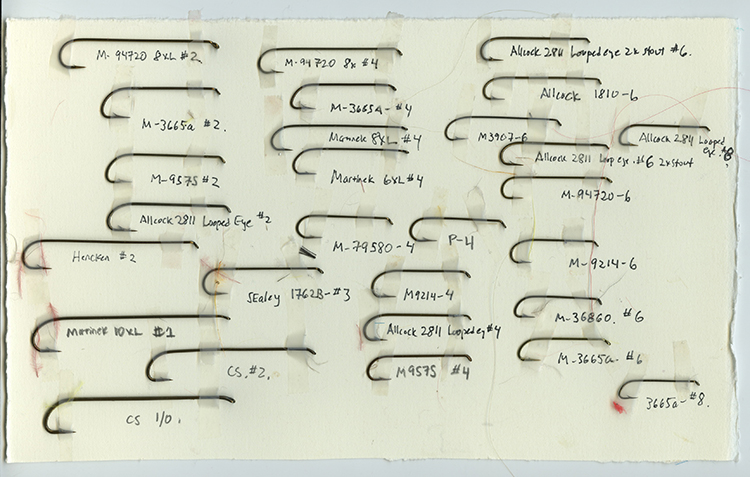 Pretty much all of the rest of the materials were challenges in one way or another—vintage silver plate tinsels were hard to get (I had to trade for some of them), and some flosses were also a challenge (Rice's and Herter's Superla silk got a lot of use, but I also used some rayon). A Silver Pheasant crest was also necessary for a couple of patterns—and they are harder to find nowadays than just a few years ago; luckily a friend had a stash. The right bucktail was also surprisingly hard to get—Stevens' flies use particularly straight hair, and not every bucktail is suitable for the task. I went through dozens to find the right ones. Sometimes Stevens used copra (goat), which (in a letter to Joe Bates) she said she favored because it was less bulky than bucktail--but the 'white' goat that is commercially available is bleached and has a godawful blueish cast—cream (natural) works a lot better. One of the hardest things to get was good peacock—as my local shop guy said, the best stuff is being sucked up by the crafts industry, leaving the crappy stuff for fly tiers—thin herl, broken herl, limpid herl. The best solution is getting large eyes—with stems 24" long—which will generally have some full herl that plays such an important role in defining the lateral line of many of Stevens' patterns. The easiest material to get was good jungle cock—I don't think I've ever seen such fine jc as you can buy today.
No wonder tiers hoard their materials—because once you find something you need, and the quality is good, the chances are you won't find it again in your lifetime.
After dyeing hackle, I spend a lot of time matching up wingsets—a process that took a lot longer than I thought. I used Griff's thick for the glueing, it's just the right consistency—and while I was down to my last bottle or so, and didn't want to spend time sourcing other adhesives, I suppose I could have used something else. The Griff's worked well, I'd glue up two or three complete wingsets at a time.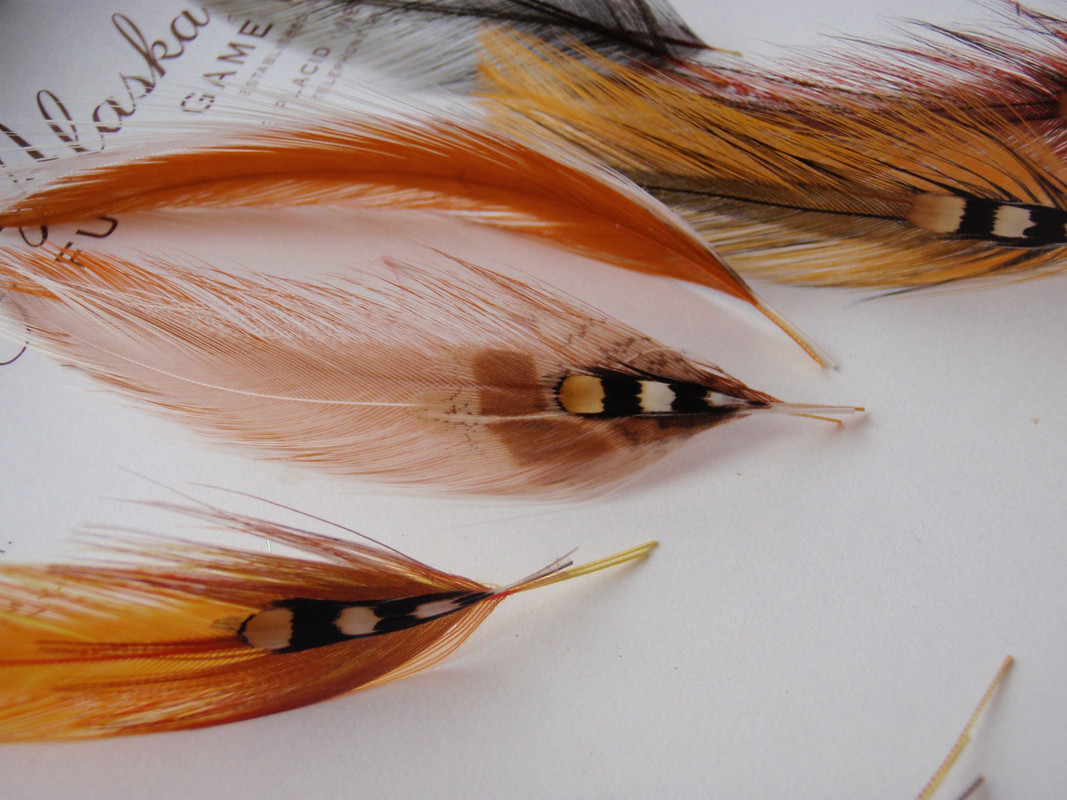 Some streamers have four hackles per side—8 hackles in all—so by the time you add the cheeks and the jungle cock eyes, you have 6 or 7 stems on each side of the hook, and will wonder like hell how you are going to tie it all in so you can have a nice and compact head. The answer is not in 'shingling' the stems, but in cutting them very short—to the point there are almost no stems) and then flattening them (I used needle nose pliers). If you look at the Stevens streamer Sharon Wright took apart to the last turn of thread in her recent book on classic featherwing streamers, you can see that Stevens just left small nubs where the stems would be—nothing more.
The bodies were a separate operation—either tinsel, floss-and tinsel, or tinsel & tail. The flat plate silver lays down beautifully—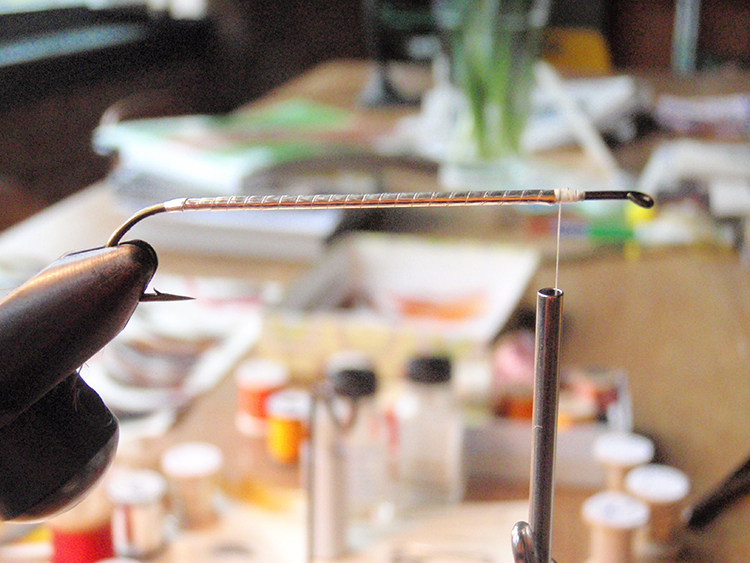 I love that stuff--though to wrap an 8xl size 2 hook with tinsel in both directions uses a lot tinsel. (side note: I am almost out of flat wide silver, does anyone have any to sell of trade?)--. The whole process is somewhat obsessive. I also noticed that Stevens took pains to tie in her floss clockwise, and then wind her tinsel counterclockwise, so they are cross-locked. A lot of people tie both the floss and the tinsel clockwise (including Hilyard himself, look at pp 91, 102, and his examples of Allie's Delight, Big Ben, Doctor Gray, Dr. White, and Lady Killer, and others: he wrapped the tinsel clockwise).
The hardest bodies to tie are the ones with the tails, wrapping the tinsel over the tail stems so it sits neat and flat on the shank isn't the easiest thing to do. I think one thing that came out of this project is realizing that a number of tasks that we take for granted in tying have an added complexity with a Carrie Stevens fly. For example, when tying in the underbody & overbody—usually bucktail or goat and peacock—even if it's tied in right, it will spread rather than sit parallel to the hook. One trick is to cement the peacock and bucktail a little bit behind the tie-in point, and after cementing them wrap them lightly with a temporary restraining thread—and after maybe two minutes, remove the thread and everything will be sitting nice and tight: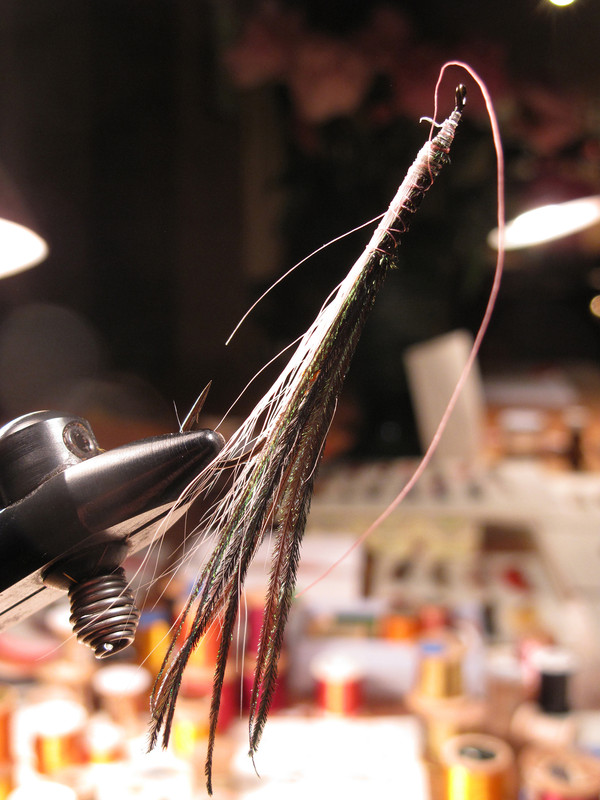 When it came to the final assemblies, the hardest thing of all was proportion. Instead of making the wing assembly for a specific hook size, I'd choose the hook for the wing assembly. A lot of Stevens flies today are tied pretty 'fat' (to my eye, and in my opinion)—so for my models I used images I took of her flies in the museum in Oquossoc. The flies here are laid down as they might be laid down in a fly book—a little disheveled, and in a good way: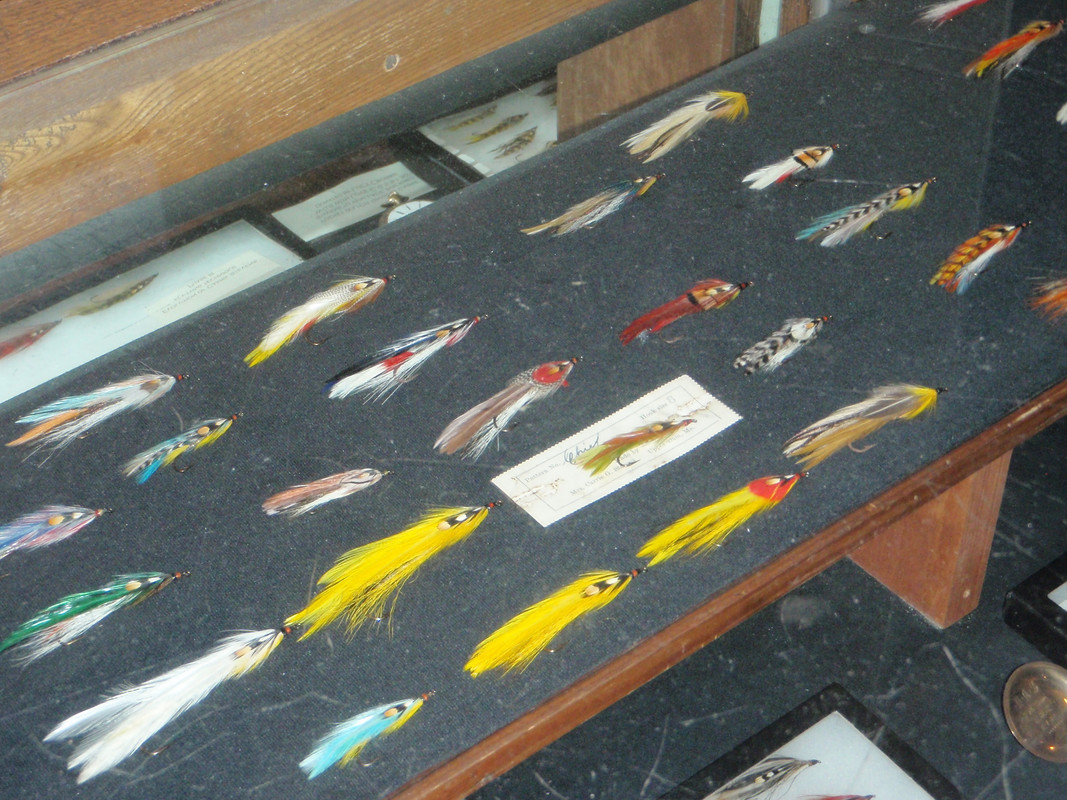 You can see how they are rather long and lean, and not like a lot of Stevens ties you see today. How much this all affects the action of the streamers in a sustained current I am not sure (like the current you get at Upper Dam, or rather got at Upper Dam, as the new dam will change things).
I learned a lot with this project—it took about 6 weeks from beginning to end, working on-and-off at the end of the dining room table to tie 105 flies. This includes time for dyeing hackle, pairing wingsets, building cheeks, tying bodies, assembling bodies, and finishing heads. Some flies came out really well—some less so. Some things still need improvement—the heads, for example. I'll give it all another go next winter when I get my other hip replaced. Tying Stevens streamers the way Stevens tied them is something you do for love, or curiosity, but not money—Stevens charged roughly 75 cents per fly in the 1940s—something like $18 or so today. That's not much. But value is relative: There's a letter from one angler in the Hilyard book that puts this in perspective. In the letter, the partner from a law firm in NYC had his secretary type a letter to Stevens—asking her for four Green Beauties—and saying that he would arrange to have a check sent for them. Clearly, the monetary value of the flies was imbricated with their scarcity—and it's surprising that so many actually survive today. Folkins said at one point the Stevens process just isn't cost effective—so you can hardly blame him for mangling her work with his own ties--.
In any case, here are some images of streamers that come out of the project: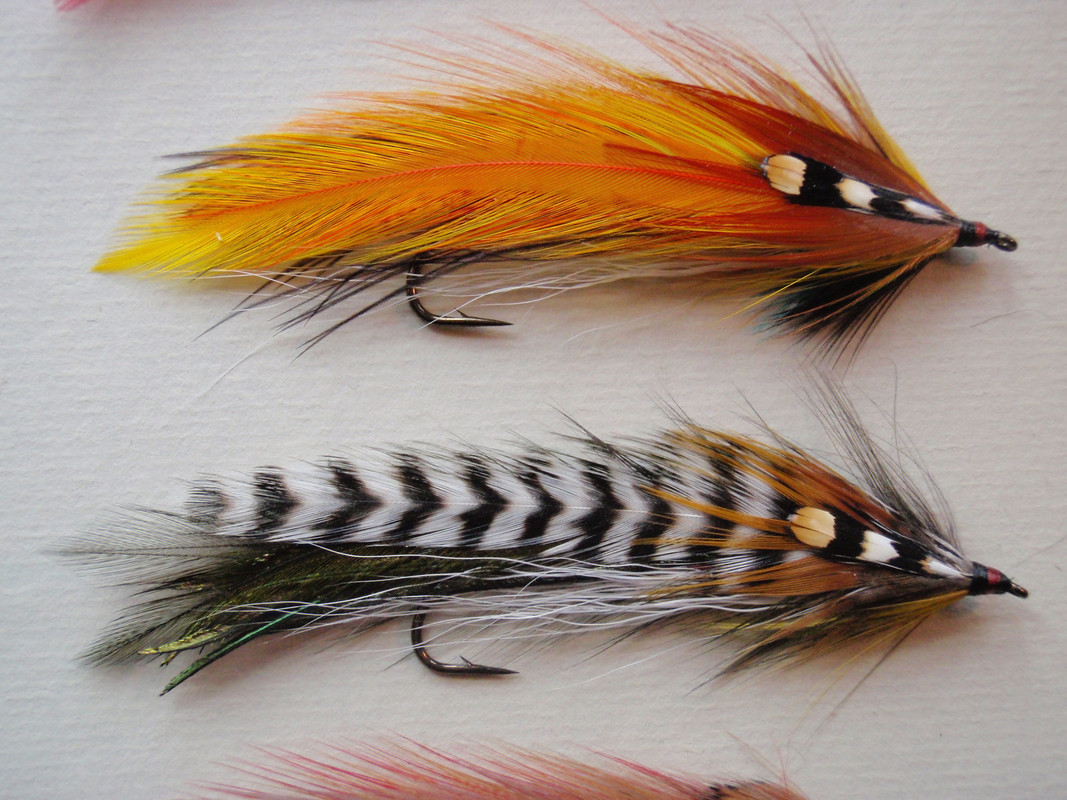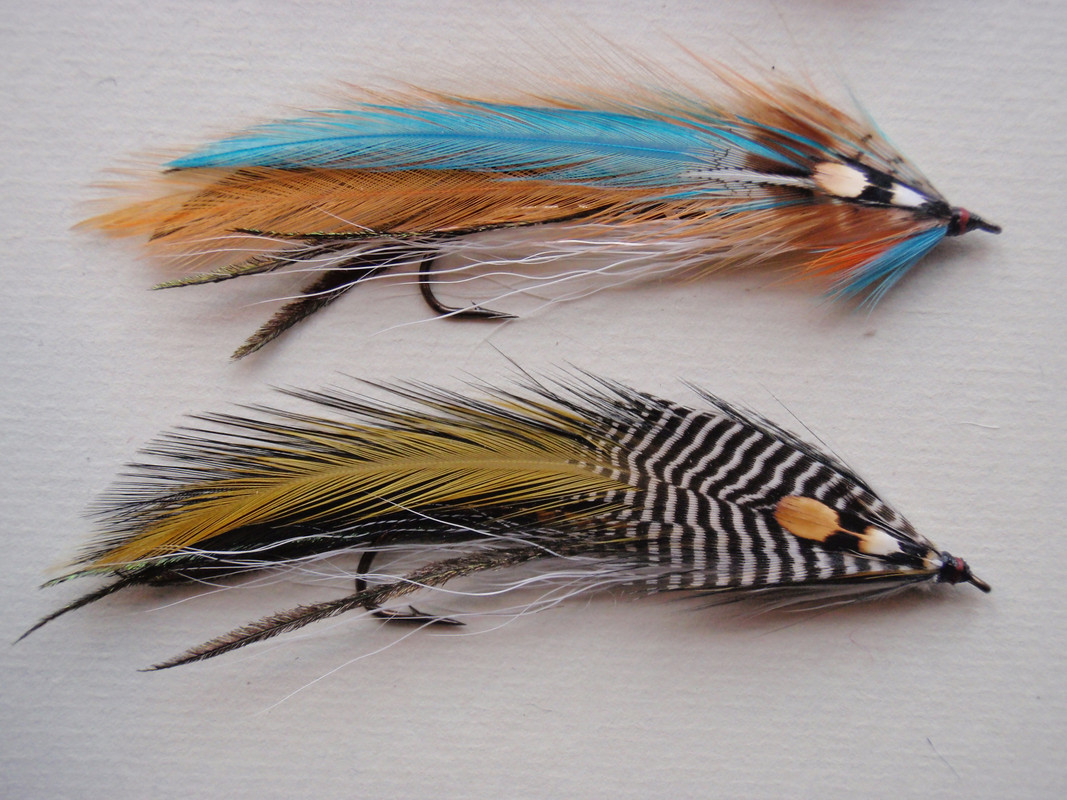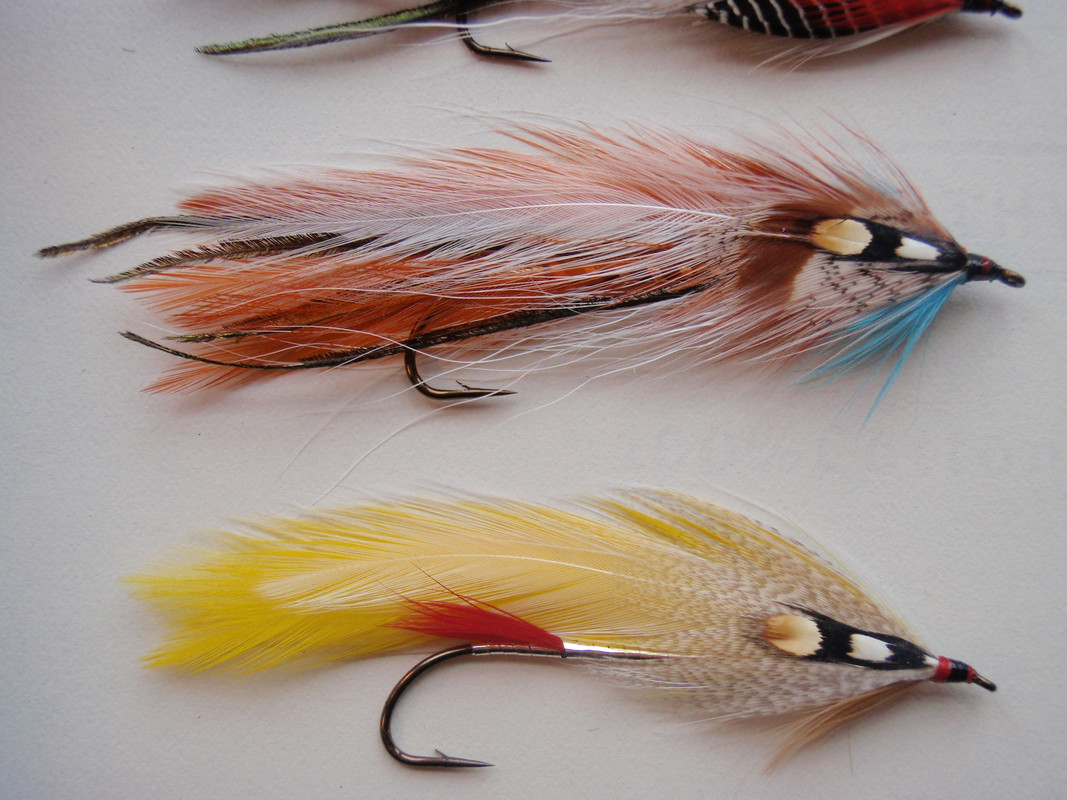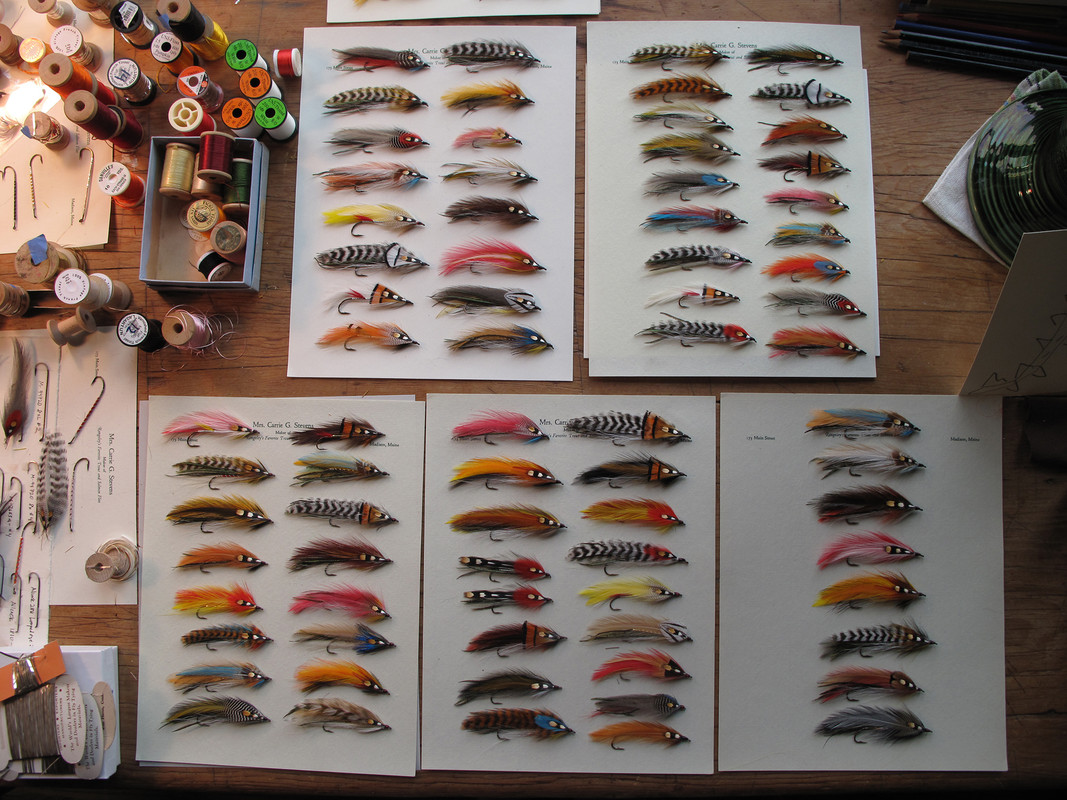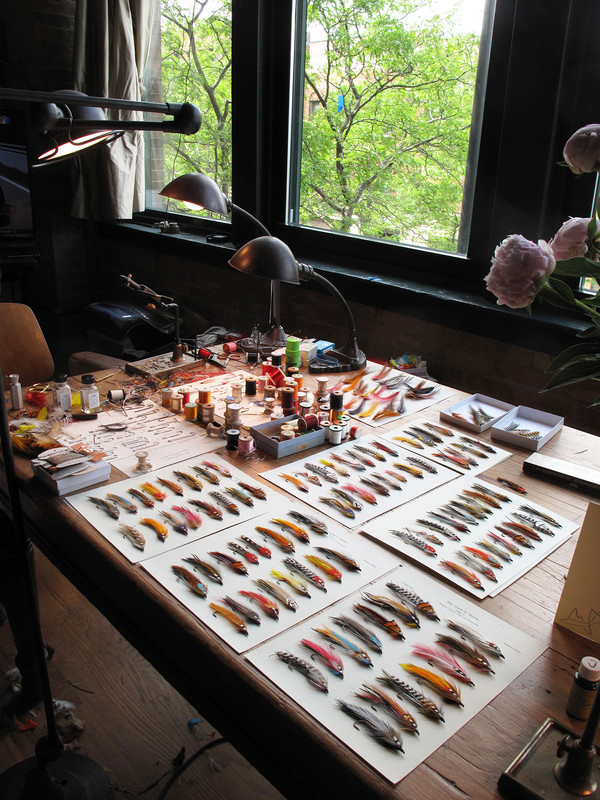 bb