While I'm on the topic of quill-bodied flies with grey wingsets, I thought I'd say something about G.E.M. Skues and his Orange Quill dry fly. As some of you know, Skues wrote essays about both tying and angling (especially about fishing nymphs upstream) in the
Journal of the Fly Fisher's Cub of London
; between 1910 and 1939 he published four books. He also corresponded regularly with Theodore Gordon. His visage is unforgettable, and one of the most gnarly in angling history: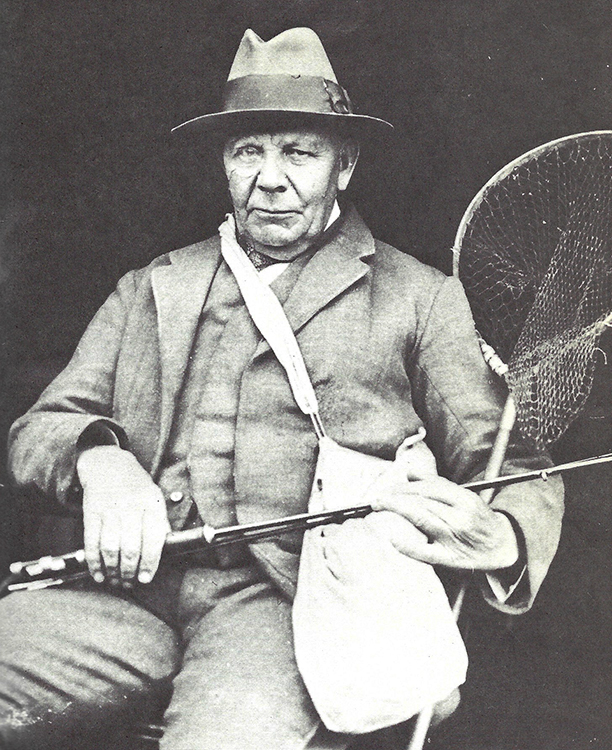 Skues had huge hands, one eye, a permanent scowl, and a very particular sense of humor. He also had some tying secrets.
One of those secrets is the Orange Quill. He describes it--somewhat vaguely--in his writings, but among his 82 published fly dressings, it cannot be found. Not until Skues died, when his letters were collected and published, did secrets about the pattern come forth.
The Orange Quill is tied to represent the Blue Wing Olive dun. This seems illogical--we want to think Olives have olive bodies, not orange bodies. Skues could not explain why it worked so well, only that it did. At dusk, and only at dusk. While he developed the pattern in 1894, it was not until 1931 in an article in the Fly-Fishers' Club
Journal
that he discussed the Orange Quill in relation to Halford's Red Quill--which he insisted was different than his fly, more of a brownish red. In the last year of his life at the age of 91, in a letter to A.E.N. Jordan, he described the particulars of the dressing: "It is winged with starling," he wrote, "and the color of the body is hot orange. The body is made of condor quill: it has the usual hackle and whisk" (
Letters
, p. 38).
There is no published photograph of an Orange Quill tied by Skues. At least as far as I know.
The closest thing I have seen is a version of the fly tied by Thomas Clegg in 1984, in a group of Skues patterns he tied. The Orange Quill is on the far left:

Here's a close-up, of sorts: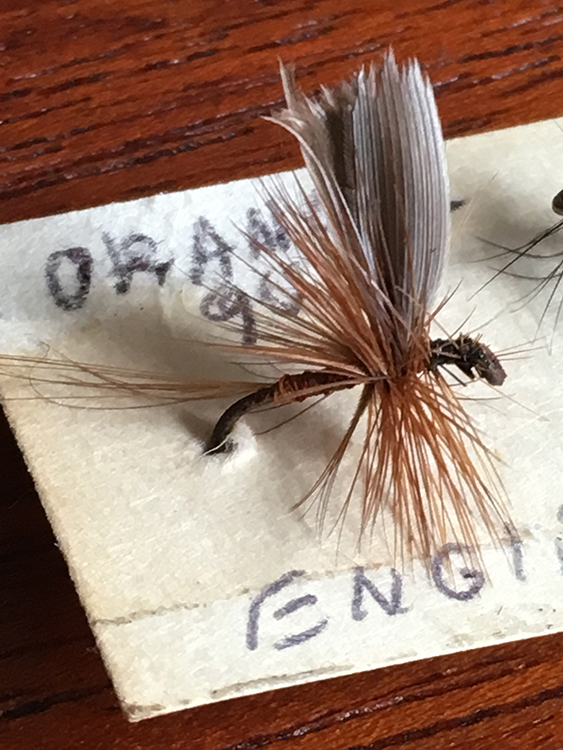 Clegg was, like Skues, a member of the Fly Fisher's Club of London and had access to Skues' papers and his archive of flies and tying materials. The Clegg version is a bit faded, and the hook slightly rusty. But the orange is unmistakable. A little while back, a famous UK angling outfitter was still selling burnt orange condor quill--it seems to have been quite a popular pattern.
Like the Flick patterns, I need to research Skues' dressing a bit more--which calls for a trip to London, I suppose. If anyone has anything to contribute on the Orange Quill, please do.
Thanks,
bb