Vance

wrote:

↑

Sat Dec 12, 2020 8:43 am

I still have some fighting gamecock necks from the 80's. They have the stiffest hackle from any hackle that you buy in a store. A friend of mine use to fight them but gave it up in the latter part of the 80's. I would get the losers and it would take me all day to strip them down wash them and then borax them to get all of the fat and blood off of them. But the finished product was a great neck for tying. I had ginger in different shades and what they called greys was a very light ginger for tying Lt. Cahill. Boy I cannot believe how time flies. Here it is 2020 and I am talking about the 80's.
LOL--that goes for a lot of us, I'll bet!
The necks you got sound great--can you post a photo of them? I'd love to see them! Especially if you could show some splayed hackle held up to light so we can see how the webbing is spread through the hackle.
I've started tying a variation of the Coffin fly bomber--adding some dark brown to the calf tail wing, so it has a more variegated appearance--which is typical for Coffin flies. The strange thing is it's what I call a three-day fly: I only get three days to fish it every year, assuming I hit the Green Drake hatch right. There's the pre-hatch day, when a few stragglers from down river fly upstream; there's the day of the hatch; and there's the day after, and then it's all over. On the Ausable, the palmered hackle (like Fran Betters' Ausable Bomber) really helps--Fran tied an orange-bodied version, I'll post some photos later). Here's the latest Coffins: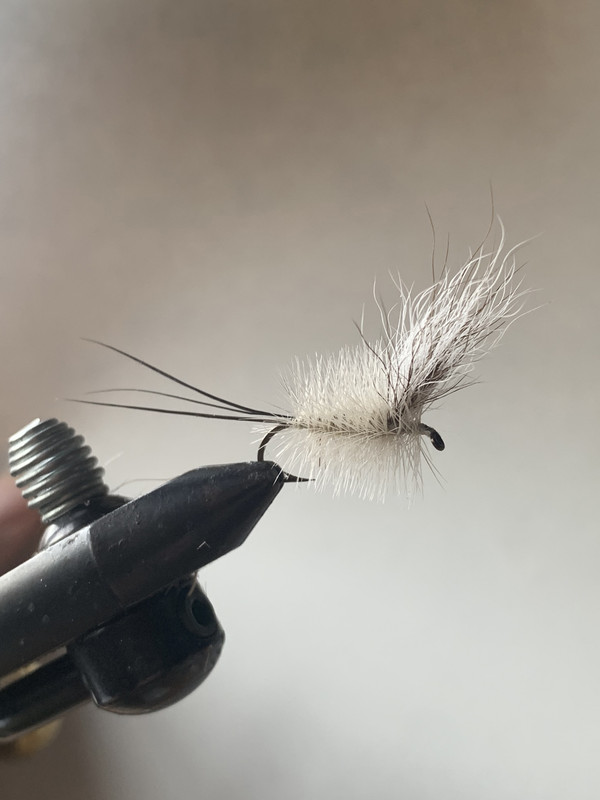 bb