This ones for you Ed...
I read somewhere the meaning of the word
bumblepuppy
means "without rules". I am sure Theordore Gordon knew the meaning when he conceived and named this fly, because he changed it from the day he tyed it, and his predecessors did the same. Its hard to pin down the real Bumblepuppy, although I feel like they are all real, just changing to suit conditions or the tyers mood.
In Bates's book,
Fishing Atlantic Salmon, the Flies and their Patterns
there is a photo from the authors fly collection of a Bumblepuppy tyed by T.Gordon himself. This is the dressing I have always preferred, and its close to the one pictured in "Quill Gordon" by John McDonald. Its is absent a tail, but for the most part nearly identical to the one in Q.G.
Gordon used this fly for everything, Pike, Bass, night fishing for trout, even in saltwater. After Gordon died, Herman Christian modified it again, stating his is the more killing dressing, and he went on to kill many trout with his version.
In Larry Kohlers book "Taking Larger Trout" there is another version that he describes as a night fishing fly. It too is close to the others, but has a herl butt and head. Here is his version that I tyed as it appears in the book...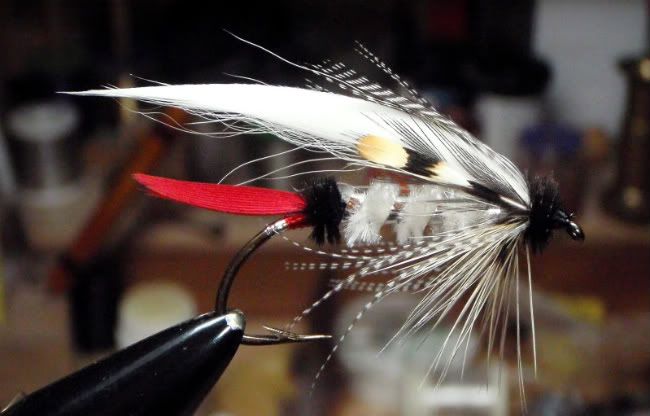 Its the one I was fishing this past weekend, on a #2 Mustad limerick 3X.
This is the dressing from Bates book as I interpreted it, as the book doesn't give a dressing...
tip-silver tinsel
tag-red floss
butt-yellow chenille
body-white chenille ribbed w/silver tinsel
hackle-badger tyed doubled and heavy
underwing-polar bear or bucktail
overwing-white swan or goose
collar-teal or widgeon in front of wing
cheeks-JC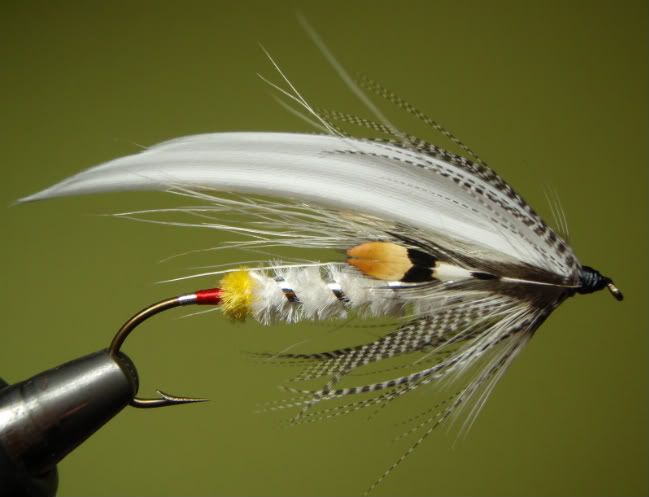 The dressing Herman Christian used is as follows...
head-black
tail-small bunch of red hackle fibers, rather heavy
body-white wool or chenille, rather heavy
ribbing-red wool
throat-2 turns of red and white hackle mixed to make a long but sparse collar
wing-white bucktail with the lower half clipped short and the top half extending slightly beyond tail. over bucktail 2 long matched brown turkey tail feather sections extending to beginning of tail.
Here is one on an old E Hille 1/0 5X long.
CJ