Posts: 41
Joined: Sat Oct 20, 2012 9:25 pm
Location: Riverton, Ct.
Perhaps a Chernobyl Bi-Visible?

tt
---
---
Charlie--once again, you nailed it. I had quite forgotten about your post.
What perplexed me about the flies I have is that all were palmered but only some were Bivisibles; others were all brown, or black, or badger, or even white--and one was Grizzly--which I now see is your Colonel Monnell.
One in particular stands out--the Soldier Palmer, which has a body of red floss overlaid with tinsel and all brown hackle (upper right corner in your fly box):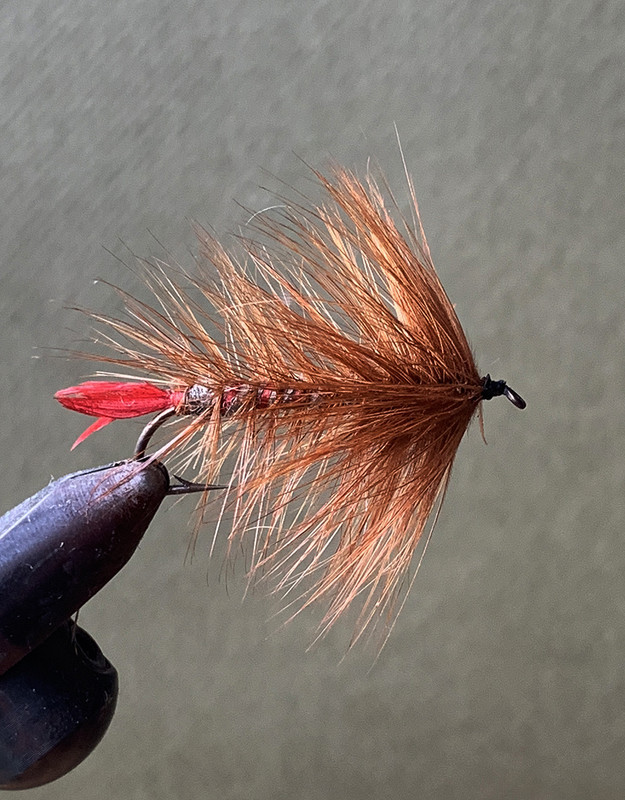 And here's the Pink Lady Bivisible--which I first encountered in Bergman's Trout (second row, second from left):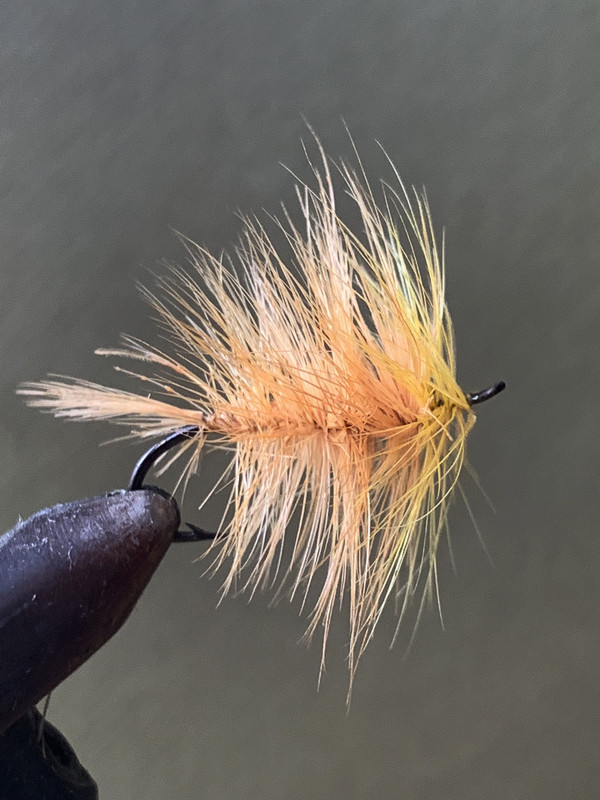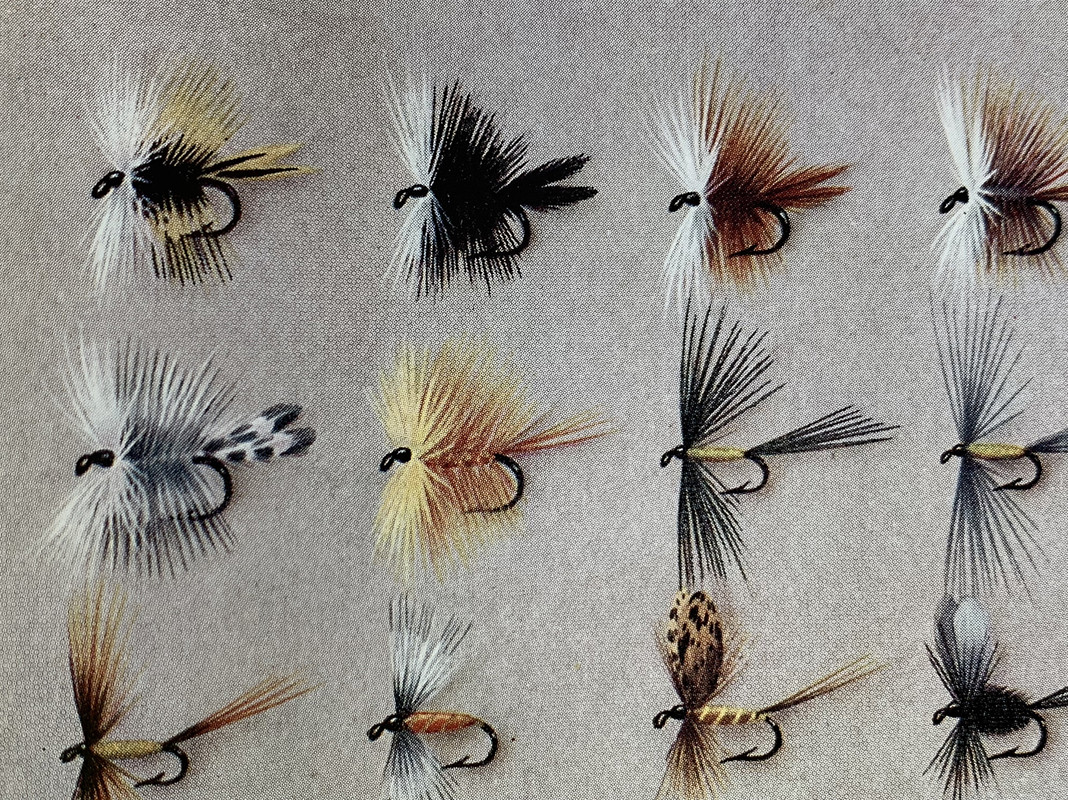 I have some others that could be described as salmon skaters, a few with tails, and will take photos of them later this week.
Thanks again for your help, as always--
bb
---
Does anyone have copies of the Darbee catalogues? If so, can you check to see if they offered Skaters for sale? If so, can you post a photo/scan of the relevant page? It seems the only listing I can find of Skaters for sale is in the Hewitt 1937 catalogue, where they were $3.50 per dozen.

If anyone knows of any other tier offering them, pleasen let me know.

Many thanks,
bb
---
Posts: 1995
Joined: Thu Apr 30, 2009 10:03 am
---
Thanks, Ted--exactly what I was looking for!--"Extra Large spiders, same patterns as above but much larger diameter."

Do you have a date for the list? It would have to be after 1946, when Wetzel's book (mentioned in the catalogue) was published.

Many thanks again,
bb
---
bb - according to the narrative on the cover of the pamphlet that list would've been issued in 1953.

Hope all is well by you
Dana
"Time to go fishing"
---
Dana,

Thanks, yes--sort of. But the Darbees were founded, as CWFly pointed out to me, in 1935, first catalogue in 1938--so this one would be 1950? Either way, it's close enough to indicate that Hewitt was still alive at this time--so the fact they listed their skaters as "Extra large spiders" is significant--as if tacitly not competing with Hewitt, who was still taking orders for Skaters (as far as I can document) through the 1940s.

I'm up on the Ausable now--water has been high, but fish are BIG and FAT--nonetheless, streamers are getting to be a bit of a bore. Hopefully we'll see some rises tonight or tomorrow as the water levels come down.

bb
---
Rummaging around I found this somewhat misplaced leader that although much shorter than called for by ERH might have kept the skaters from twisting too much.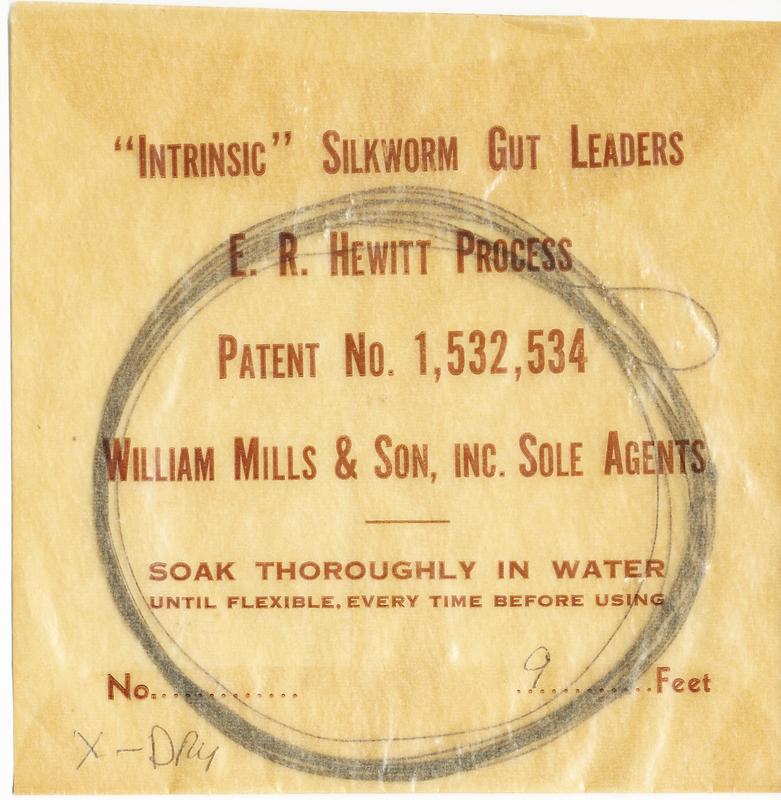 ---
Thanks, Charlie. The 'twisting' problem you describe is one reason Joe Brooks favored fishing smaller Skaters over larger ones--because the larger ones are so hard to cast.
I wonder what diameter your leader here is? In his writings, I haven't found Hewitt indicated an x/diameter for leaders for Skaters.
As you suggest, controlling the Skater requires a leader that allows the angler to impart a direct transfer of energy. The usual supple leader that is ideal for dead drifts is not the kind of leader you want to use with a Skater--at least I don't think so. Hewitt suggested a long and fine leader, in order to make the fly land lightly on the water. But his idea of 'long and fine' when produced in gut –Hewitt disdained nylon—is not like our contemporary idea of long and fine. In
Telling on the Trout
he recommended a wire-drawn leader added to a regular nine-foot leader to make a leader that was 18-20 feet long. "To my surprise, this cast much better than the fine leader alone," wrote Hewitt, who cautioned "it could not be cast at a short distance as it did not carry enough energy in the line and leader to propel it forward. It could not be cast less than about fifty feet," he concluded, "and began to work well at sixty feet, and best at sixty-five to seventy feet." (45) Seventy feet? Good lord! Given that Hewitt's gut leaders were much less supple than modern synthetics, a stiffer material, like Maxima Ultragreen, would seem to offer a leader similar to what Hewitt preferred. I use Ultragreen in 3x and 4x with any large hackled flies that offer wind resistance (like Fran Betters' stone fly and Stimulators). These flies also involve imparting action (skittering, skating)--as opposed to dead drifting.
Curiously, though, the image of a Skater on the water, from Hewitt's 1937 article, shows the Skater flat in the water, and the leader circled around it--at the moment, I suppose, prior to stripping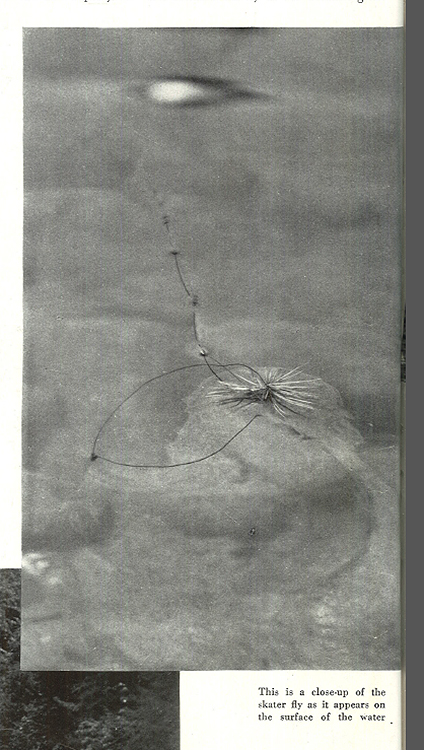 Late edit: here's another still from the movie showing the Skater and Hewitt's tippet--which appears to be one of his stained tippets--.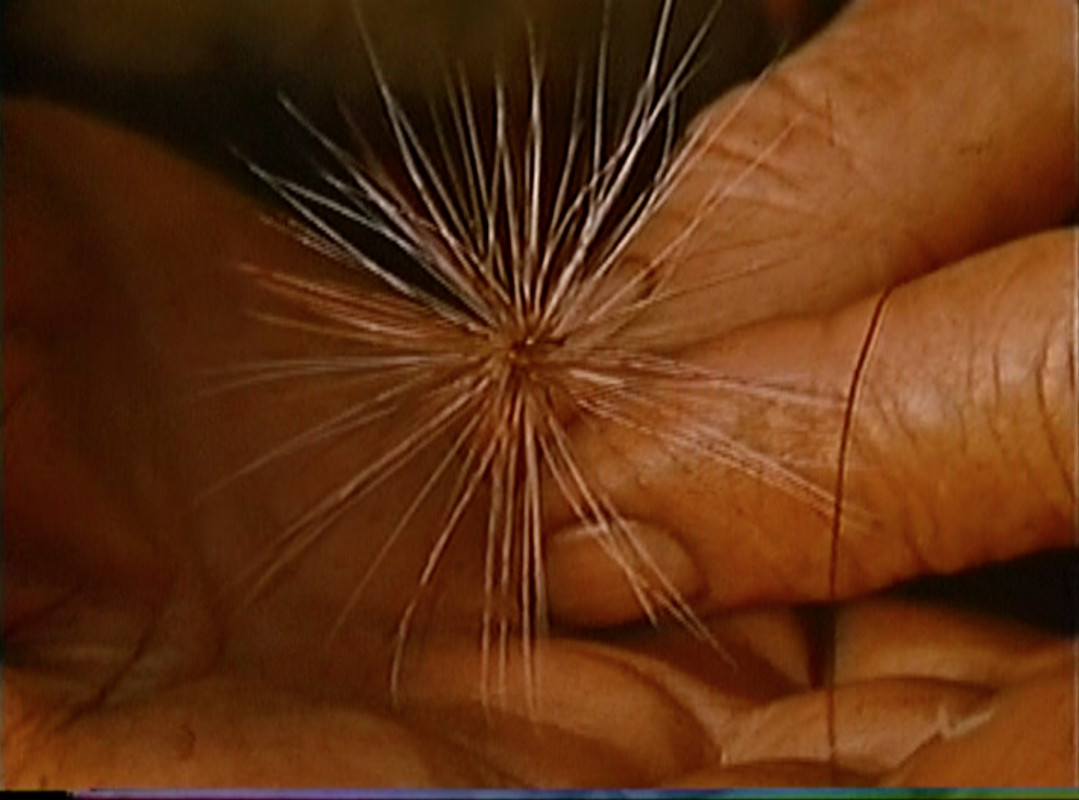 bb
---
Users browsing this forum: Bing [Bot] and 1 guest