I received an unexpected and generous gift today from Dana Gray of the Carlson Rod Co.
The fly is fascinating, but the most significant part of the gift is the paper label tag for identification of a customer's order of flies. I have never before seen a fly tag printed for the Paul H. Young Co. You can see a hole in the tag, indicating that a fly, perhaps this one, was once attached to it. Space available to write the number (internal business code for different patterns? or just the number of flies ordered?) and size (probably hook size) remains unfilled.

Penciled on the back of the tag we see "3349" (an internal business code for a particular fly pattern?) and "8 - 12¢ - D2", which seems to indicate a hook size of 8 and a price of twelve cents. But what does "D2" mean?
The fly that accompanied the tag was in a group of items, including other flies, some of which were not in great shape. The hook is pretty large; it could be a size 8. But it is possible that this fly is not actually a PHY fly linked to this tag. Does anyone recognize the pattern? What feather is that wing made from?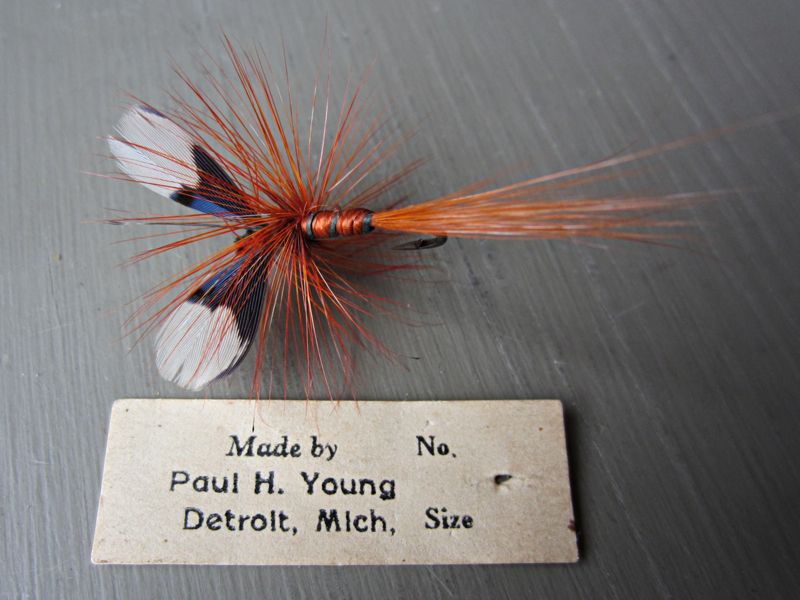 Checking PHY catalogs and fly lists indicates that a price of twelve cents pretty much limits the time period to the 1930s and the Depression. Young and a group of local suppliers tied flies for sale, including the patterns for which he became known, such as the Bivisible, spentwing versions of the Adams and other Michigan patterns, and the Strawman nymph. Young also imported English flies. Dana received these items following the death of an angler friend in his 90s.
Any thoughts and insights concerning the fly and the tag would be much appreciated.